by Maddison Stewart Stone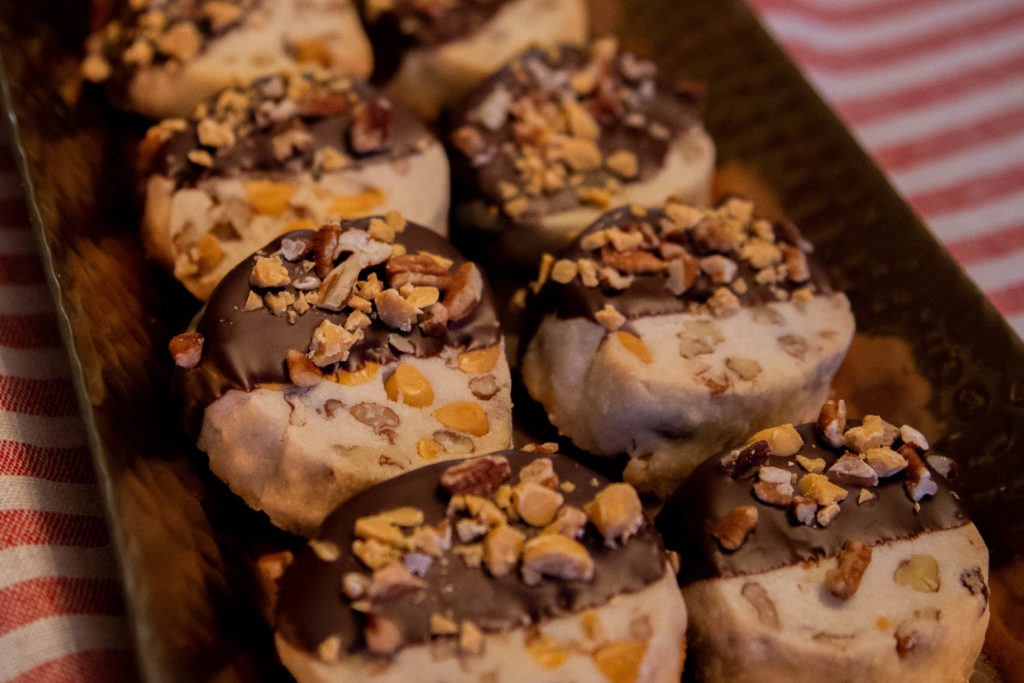 It seems no matter how Christmas is celebrated, cookies are always part of the fun! The sweet aromas of cookies baking in the oven and the warm tastes of that first bite always takes me to a place of love, family and Christmas cheer.
With this year being my first married Christmas, I wanted to start some new traditions for Cameron and me. So, I decided to bake my own cookies to bring those feelings of love and family into our new home during the holiday season. I'm not going to lie though; I was a little nervous! I had it in my head that there were so many ingredients and steps when it comes to baking cookies, that I wasn't going to be able to do it. Surely I'm not alone when I think, "Only Mama or Grammy are capable of baking something from scratch, I can't do this!"
But, I powered through. I spent an hour and a half in the grocery store (seriously, that's no exaggeration…) looking for my ingredients, got them home and spread them all out on the counter. Then I realized something, this can't be that bad. I know these ingredients, I know where they come from and I even know farmers in Arkansas who grow them!
This got me excited. I'm proud to know farmers who work hard every day to give joy and in this instance, Christmas cheer, to people around the world. But, how many people actually know where Christmas cookie ingredients, or any cooking ingredients for that matter, are grown? The sad answer is, probably not many people.
So, for my Christmas cookies this year, I decided to re-vamp my recipes a little bit so the cookies featured products that are grown in our state to shed a little light on Arkansas agriculture.
I made two different cookies! I know, I really went all out on my first try at making homemade cookies. The first cookie is a pecan and butterscotch cookie and the second is a blackberry jam cookie.
These recipes were so much fun to make, and not to mention easy! If I can make it through baking homemade cookies, anyone can. Check them out below!
I hope in these two recipes you find some love and Christmas cheer just like Cameron and I have. Merry Christmas!
Pecan and Butterscotch Cookies
I chose a pecan cookie because pecans are the official state nut of Arkansas. Arkansas isn't famous for its pecan production like other states, but pecan trees are native to Arkansas and are the most desired tree nut in the world. Who knew we had such desirable trees in Arkansas?!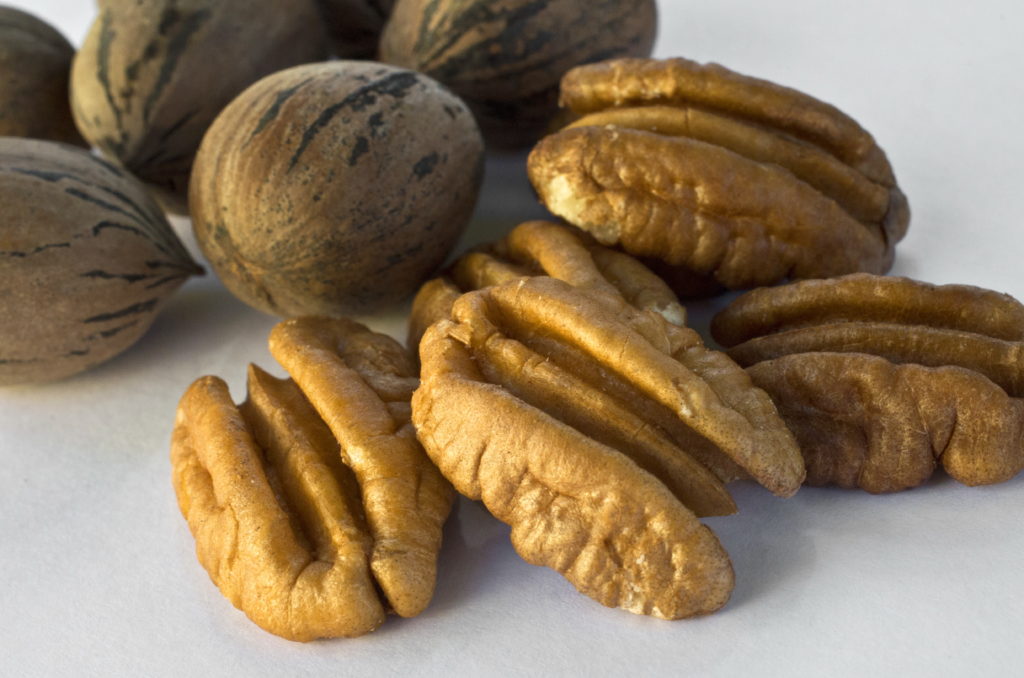 Several varieties of pecan trees are grown across the southern, eastern and central regions of Arkansas with production zones concentrated along major rivers. It takes between seven to 10 years before a pecan tree begins to produce a full supply of nuts. But once the process starts, the tree can product for a very long time, sometimes more than 100 years.
Arkansas is one of 15 states in the country that produce pecans commercially. In 2015, Arkansas farmers harvested 3.4 million pounds of pecans. That's a pretty big deal and something our pecan farmers should be proud of!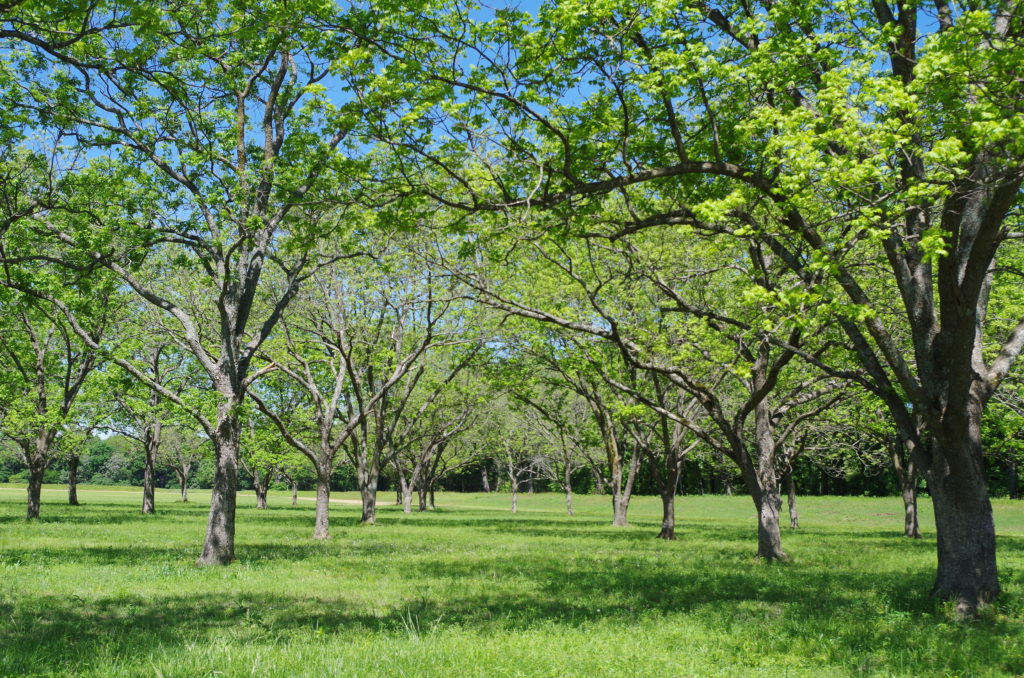 Along with producers selling pecans commercially, there are also farmers who sell pecans straight from their farm to your table! On Arkansas Grown there are 34 farms across the state that sell locally grown, Arkansas pecans. For this pecan cookie recipe, or any other recipe that calls for pecans be sure to check out them out to find a vendor near you to find some good ole Arkansas pecans!
Learn more about Arkansas pecan production through the University of Arkansas Cooperative Extension Service!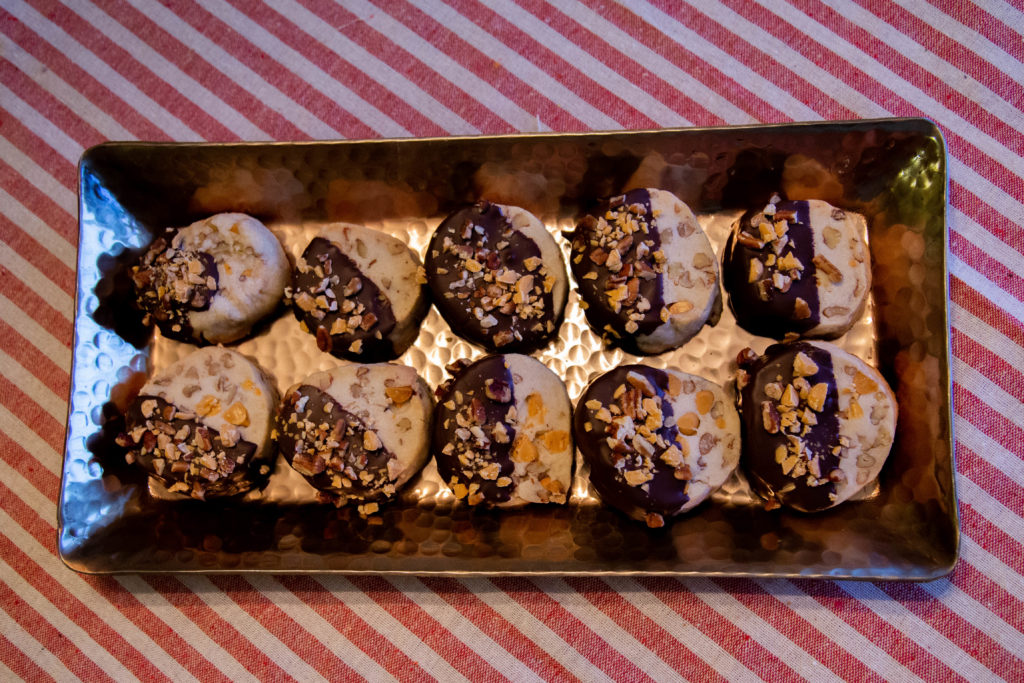 Ingredients
1 cup butter, cold and diced into small cubes
2/3 cup powdered sugar
1 1/2 teaspoons vanilla extract
1/4 teaspoon salt
2 cups all-purpose flour
1/2 cup butterscotch bits, plus extra for topping (optional)
3/4 cup finely chopped pecans, plus extra for topping (optional)
10 ounces of dark chocolate, chopped or in wafers
Directions
Combine the cold butter and powdered sugar in the large bowl of a stand mixer and beat until smooth and creamy, scraping down the sides of the bowl as needed.
Mix in the vanilla and salt, then slowly add the flour on low speed, mixing just until the dough comes together.
Stir in the toffee bits and chopped pecans, then divide the dough into two even-sized portions and shaped into logs that are each 6 1/2-inches long and approximately 1 1/2 to 1 3/4-inches in diameter.
Wrap each log tightly in plastic wrap and refrigerate for 1 hour until chilled.
Heat oven to 350 degrees before removing the dough from the fridge.
Slice each log into 14-15 slices, each slightly less than 1/2-inch wide. Arrange the sliced dough on the prepared baking sheet, then bake for 12-16 minutes, until just barely turning golden brown around the edges.
Remove from oven and cool completely on a wire rack.
Chocolate Dipping
Melt the chocolate in a microwave-safe bowl for 30 seconds at a time, stirring between each burst of heat, until completely melted.
Dip half of each cookie in the chocolate, then shake off the extra and lay flat on a parchment-lined baking sheet. Sprinkle with additional butterscotch bits or chopped pecans before the chocolate has a chance to set, then allow the chocolate to set completely for about an hour at room temperature or in the refrigerator for quicker results.
For my second cookie, I wanted to feature something that I didn't know was a popular product of Arkansas until a few months ago. Blackberries!
Blackberry production in Arkansas is on a smaller scale than most crops in Arkansas because there is a smaller growing season for the fruit. Weather is a big issue for Arkansas blackberry growers. The peak growing time for blackberry production is early- to mid-summer when the temperatures aren't too high or too low. Temperatures have to be just right!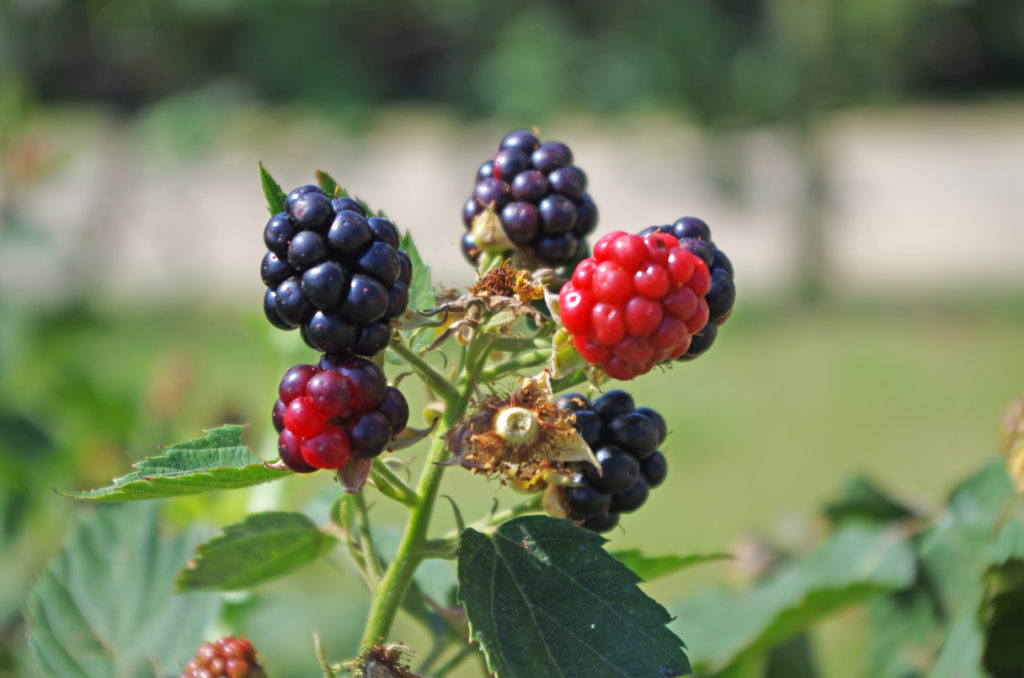 Because of this short growing season, our state has to import most of our blackberries that are sold in grocery stores to have "farm-fresh" products year-round. However, the upside to having a prime-time growing season in Arkansas is there are tons of farms across the state that offer a "you-pick" experience where you can pick your very own fresh, from-the-farm blackberries! Next summer, you should definitely check out some of those farms.
While blackberry production is a relatively small slice of the state's agricultural pie, berry varieties developed by the UA Division of Agriculture are in high demand, grown both in-state and around the world. Dr. John Clark with the UA Division of Agriculture has created numerous variations of blackberries! Learn more about his research and awards he has received for his work.
For all you out there with a green thumb, this is definitely a berry to look into for your home gardens. Blackberries are a type of berry that are easy to add to a garden and can be grown with fewer inputs than most other fruits. To top off the low input side of growing blackberries, they are perennials. The roots of the plant come back year after year!
You think you want to give blackberries a shot? Learn how to add this delicious little fruit to your own home garden by following along with the UA Division of Agriculture's Blackberry School!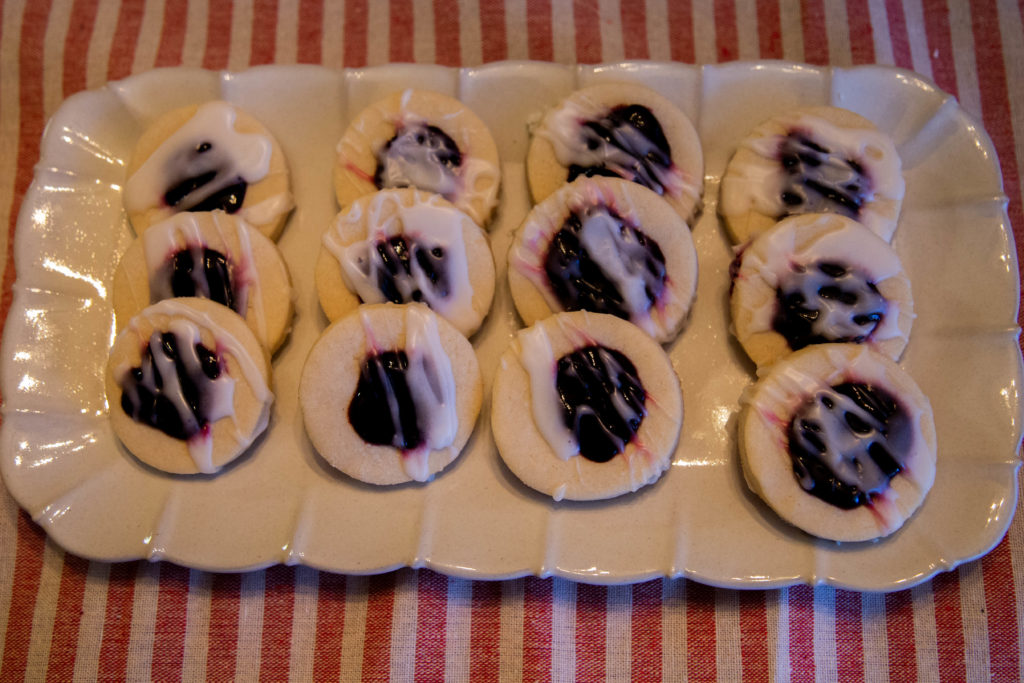 Ingredients
1 cup butter, softened
2 1/2 cups all-purpose flour
1/2 cup sugar
1 teaspoon vanilla
1/4 teaspoon salt
1 egg, slightly beaten
Seedless blackberry jam or jelly
1 recipe powdered sugar glaze (see recipe below)
Directions
Preheat oven to 375 degrees. In a mixing bowl, beat the butter with an electric mixer on medium to high speed for 30 seconds. Add about half of the flour, the sugar, egg, vanilla and salt. Beat until thoroughly combined.
Beat in the remaining flour, mixing until the dough sticks together to form a ball. Gather into a ball and knead slightly.
On a lightly floured surface, roll the dough out until it is about 1/2 In thick. Take a circular cookie cutter and cut out as many cookies as you can. With the remaining dough, repeat the process until you don't have any left. Arrange the cookies on ungreased cookie sheets about 2 inches apart. With a TBS measuring spoon, press a groove in the center of the cookie.
Bake for 10 minutes. Spoon jam or jelly into groove and bake for about 5 minutes more or until edges begin to brown slightly. Cool on cookie sheet for 5 minutes, then drizzle with powdered sugar glaze.
Powdered Sugar Glaze
Ingredients
3/4 cup sifted powdered sugar
1/4 teaspoon almond flavoring
3 – 4 teaspoons milk
Directions
In a bowl, mix powdered sugar and almond flavoring. Stir in milk to make a drizzling consistency.