Here's another great pot roast recipe we received. Try it, and see what you think. Let us know.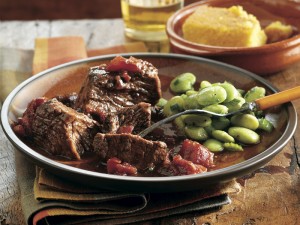 Ingredients
1 boneless beef chuck shoulder, arm or blade pot roast (2 ½ to 4 pounds)
1 ½ teaspoons chipotle chili powder
1 tablespoon vegetable oil
1 can diced tomatoes with green chilies, undrained
prepared cornbread or corn muffins
Instructions
Press chili powder evenly onto all surfaces of beef pot roast. Heat oil in stockpot over medium heat until hot. Place pot roast in stockpot; brown evenly. Pour off drippings.
Add tomatoes; bring to a boil. Reduce heat; cover tightly and simmer 2 to 3 hours or until roast is fork-tender.
Remove roast; keep warm. Skim fat from cooking liquid. Return liquid to stockpot; bring to a boil. Cook 8 to 10 minutes or until sauce is reduced to 2 cups.
Carve roast into thin slices; top with sauce. Serve with cornbread.
One tablespoon chopped chipotle peppers in adobo sauce may be substituted for chili powder. Rub peppers evenly onto all surfaces of roast as above.