If you are looking for a steak recipe to use this weekend, look no further. These Chili-Marinated Steaks with Cilantro Cream are perfect for any Memorial Day celebration. The cilantro cream is a light and creamy addition to the flavorful steaks. Grilling season is in full swing and I highly recommend trying this recipe.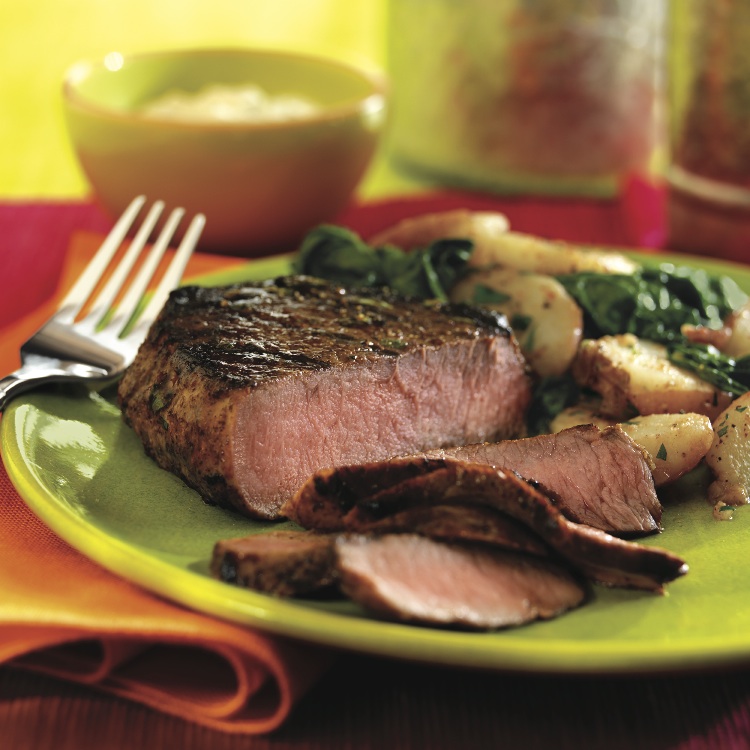 Ingredients
4 beef eye round steaks, cut 3/4 inch thick (about 4 ounces each)
2/3 cup prepared Italian dressing
1/4 cup chopped fresh cilantro, divided
1 tablespoon chili powder
1/2 cup dairy sour cream                                                                                         
Directions
1.  Combine dressing, 2 tablespoons cilantro and chili powder in small bowl. Combine sour cream, remaining 2 tablespoons cilantro and 1 tablespoon dressing mixture in another small bowl; season with salt, as desired. Cover and refrigerate until ready to serve.
2.  Place beef steaks and remaining dressing mixture in food-safe plastic bag; turn steaks to coat. Close bag securely and marinate in refrigerator 6 hours or as long as overnight, turning occasionally.
3.  Remove steaks from marinade; discard marinade. Place steaks on grid over medium, ash-covered coals. Grill, covered, 10 to 12 minutes (over medium heat on preheated gas grill, times remain the same) for medium rare (145°F) doneness, turning occasionally. (Do not overcook.)
4.  Carve steaks into thin slices; season with salt and pepper, as desired. Serve with cilantro sour cream mixture.