I love an easy recipe I can throw together after a long day. This Chicken Teriyaki Rice Bowl is an easy, one-bowl dish that will satisfy the whole family. I really like teriyaki sauce. I marinade steaks in it, add it to hamburgers, use it in homemade barbeque sauces, dip chicken in it and more. It's great when I find recipes that include ingredients I already love. The best part about this dish is it's ready in less than 30 minutes.  Next time you're having a crazy week, instead of picking up Chinese at the drive through, give this recipe a try.
Did you know Arkansas ranks number one nationally in rice production? The state's producers grow primarily long grain rice but also some medium and short grain rice.
Ingredients
1 tablespoon olive oil
2 chicken breasts, sliced
½ cup bottled teriyaki sauce
½ cup water
1-1/2 cups carrots shredded
1 cup edamame, shelled and thawed
1 cup broccoli florets, roughly chopped
2 cups cooked white or brown rice
Instructions
Heat oil in large frying pan over medium-high heat. Add chicken, stirring constantly until cooked, about 8 minutes.
Stir in teriyaki sauce, water, carrots, edamame and  broccoli. Bring to boil and cook, stirring constantly, for 3 minutes or until vegetables are tender and sauce thickens slightly.
Serve over brown or white rice.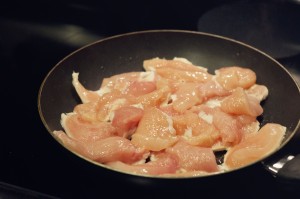 Cook your chicken.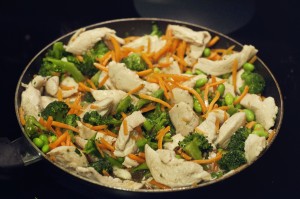 Add all the vegetables, sauce and water. Cook until sauce thickens.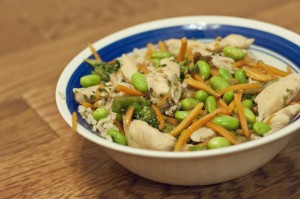 Serve over cooked rice. It's really easy.