Chicken spaghetti? What? I grew up in a Tony Soprano-like northern New Jersey neighborhood. There was no chicken in the spaghetti there, never. No chicken on pizza either and most definitely, no fried eggs. Chicken was for cacciatore, not spaghetti. Eggs were for breakfast. No, I'd never heard of chicken spaghetti until I migrated to the South. What a great idea. Just like fried green tomatoes. Chicken spaghetti is southern comfort food at its best.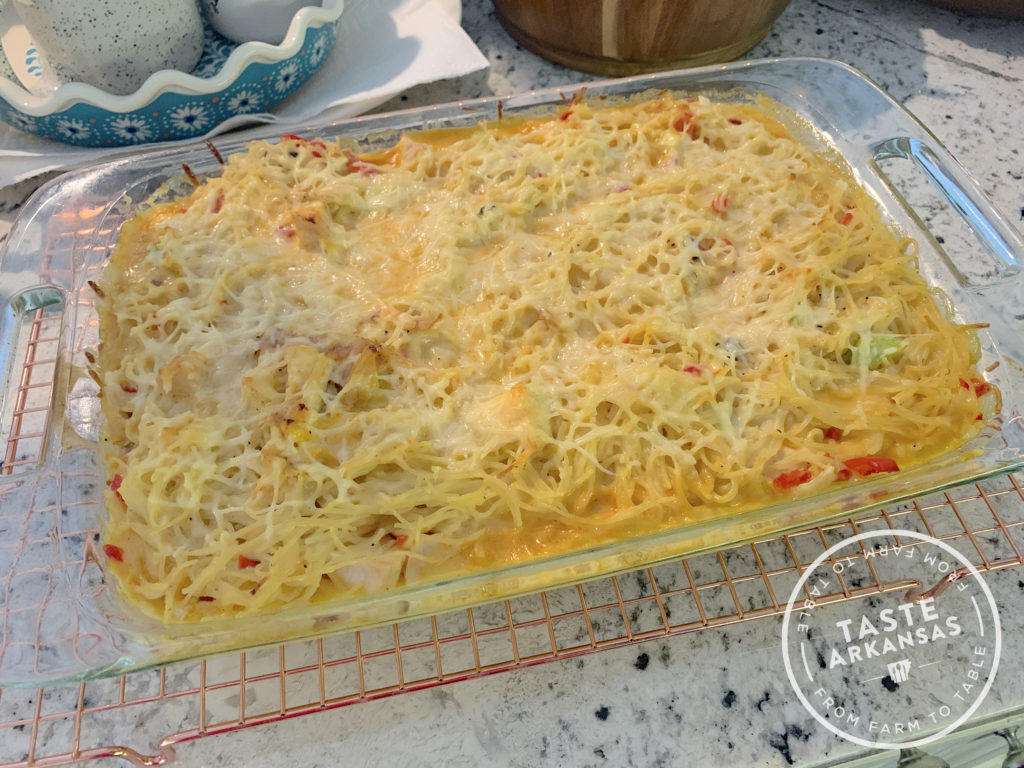 Arkansas is one of the biggest poultry producing states in the country. So in honor of our chicken farmers and September being National Chicken Month, let's celebrate this comfort food of the South.
CHICKEN SPAGHETTI CASSEROLE
4 chicken breasts
2 teaspoons vegetable oil
2 celery ribs, diced
1 large green bell pepper, diced
1 medium onion, diced
2 Tablespoons BACK-YARD Southern Seasoning (or your favorite chicken seasoning)
8 cups chicken stock or broth
One 10½-ounce can cream of mushroom soup
One 10½-ounce can cream of chicken soup
One 4-ounce jar diced pimentos, drained
One-pound spaghetti broken into bite-sized pieces
½ cup sour cream
1 pound Velveeta cheese
2 cups of your favorite shredded cheese
Garlic salt
Place chicken breasts in large pot with chicken stock and seasoning. Bring to a boil, cover the pot and cook until chicken is tender. About 1½ hours on medium-low heat. When done, allow meat to cool and save broth. In a frying pan, heat oil and cook celery, onion and green pepper until just tender but not mushy. Debone chicken, removing any skin and cut meat into pieces. Bring chicken broth back to a boil and cook spaghetti in it until just done. Drain the cooked spaghetti, again saving the broth. Preheat the oven to 350 degrees F. Put spaghetti in a large bowl, add soups; drained pimentos; sour cream, cooked onion, peppers and celery, chicken and cubed Velveeta cheese. Add 4 cups of hot chicken broth. Mix thoroughly until Velveeta has melted. Butter a 9"x13" casserole dish, and add the mixture. Cover the top of the mixture with shredded cheese and sprinkle with garlic salt. Bake in oven for 1 hour and serve.
Text and photos by Gregg Patterson