If you're looking for a quick, healthy dinner, look no further than this tasty recipe. We all know how busy the middle of the week can get and I'm always looking for something easy to throw together. These chicken kebabs are quick and delicious, but the best part of this recipe is how customizable it is. Love Cavender's Greek Seasoning? Use it. Do you prefer a teriyaki marinade? Use that to marinade your chicken. Don't be afraid to alter the recipe to you and your family's favorites. Sometime soon, skip the fast food and try out these chicken kebabs.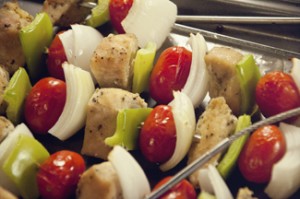 Ingredients:
2 green peppers
1 onion
1 pkg. cherry tomatoes
2-3 chicken breasts
Cavender's Greek Seasoning or another favorite seasoning/rub
Preparation Instructions:
1.    Thaw chicken and cube.
2.   Rinse peppers, remove top and core, roughly chop.
3.    Rinse cherry tomatoes and set aside.
4.    Roughly chop onion into chunks.
5.    Season chicken with Cavender's or another seasoning liberally and cook over medium heat until the chicken begins to turn an off-white color.
6.   Allow chicken to cool enough to be handled. Insert chicken and other vegetables on metal or wood skewers. Place on cookie sheet, cover with aluminum foil and bake at 375 degrees until veggies are tender and chicken has reached 160 degrees internally, approximately 15-20 minutes. You can skip step 5 and grill the kebabs until chicken has reached 160 degrees and veggies are tender.