I love trying fajita recipes. This recipe for Chicken Fajitas calls for a half packet of fajita seasoning. I like my fajitas a little more subtly flavored, and I've found that using the entire packet makes the meat over seasoned for my tastes. As an added bonus, you get two meals out of one seasoning packet. With that said, this recipe is customizable. If you don't like a lot of peppers, cut it down to one or two. If you like a lot of seasoning, use the whole packet or add your own concoction. Don't be afraid to experiment.
Did you know Arkansas produces more than one billion broilers each year? Broilers are chickens raised specifically for meat production.
 Ingredients
3 bell peppers, sliced in strips
½ white onion, sliced thin
2 teaspoons olive oil
1 teaspoon salt
½ teaspoon black pepper
2 chicken breasts, sliced thin
½ packet of fajita seasoning
¼ cup water
 Instructions
Slice bell peppers and onions. Add to a skillet on medium high heat with oil, salt and pepper. Meanwhile, slice two raw, boneless, skinless chicken breasts thin.
When peppers and onions are starting to soften and onions are beginning transparent, add chicken. Stir gently until chicken is almost done.
Add half packet of fajita seasoning and water. Stir to combine and allow to simmer for 5-10 minutes or until chicken is done and sauce has thickened.
Serve with warmed tortillas.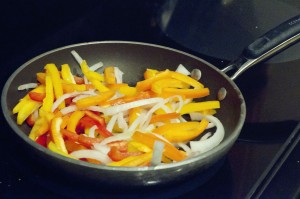 Sliced peppers and onions in the pan with oil, salt and pepper.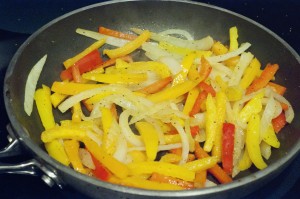 Ready to add the chicken. See how the onions are starting to look translucent?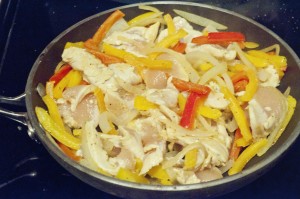 My pan was getting so full.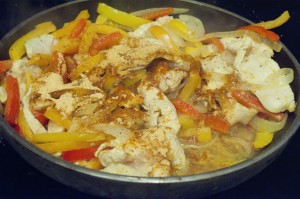 Add your half packet of seasoning and water. Make sure you stir it to combine and then let it simmer, so the sauce can thicken.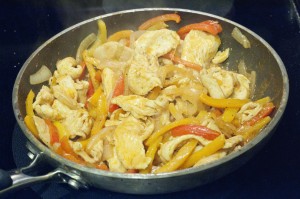 Ready to serve.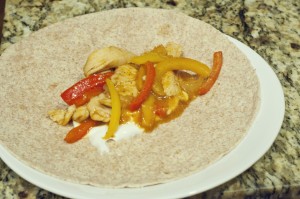 I don't put cheese or lettuce on mine, but I did use a dollop of plain Greek yogurt instead of sour cream. The flavor is very similar, and the yogurt adds a bit of protein to the meal.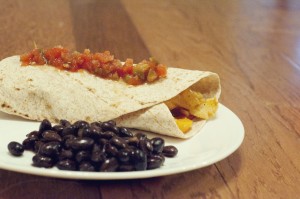 I also used a whole grain tortilla. Top with a bit of salsa and enjoy!