Ashton Yarbrough of Bentonville was a winner at the 55th annual Arkansas Dairy Foods Contest held June 6. Ashton, 15, daughter of Brian and Kimberly Yarbrough, took first in the Main Dish competition with Chicken Chili Lasagna. Each year judges placed contestants based on recipe, use of dairy products, originality, availability of ingredients and serving technique. Arkansas Farm Bureau, Southwest Dairy Museum and Arkansas Dairy Cooperative Association sponsored the event. Winners receive $150. You can find the winning recipe for the Party Ideas competition here.
Contestants can enter dishes in two competitions during the contest: Main Dish and Party Ideas. Usually, recipes entered in the Party Ideas competition are desserts, but not always. I've seen a great dip place high in that category. Regardless, the food is always top notch and the contestants work really hard developing their recipes. There have been several recipes over the years that I have added to my personal list of favorites. This year's group of recipes were no exception. Try one out today!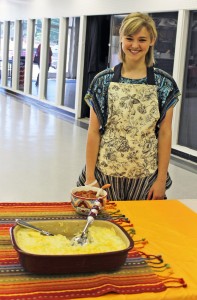 Chicken Chili Lasagna
2 packages (3 oz.) cream cheese, softened
1 medium onion, chopped
8 green onions, chopped
2 cups shredded Mexican cheese blend, divided
2 garlic cloves, minced
3/4 teaspoon ground cumin, divided
1/2 teaspoon minced fresh cilantro or parsley
3 cups shredded chicken
1/4 cup butter
1/4 cup all-purpose flour
1-1/2 cups chicken broth
1 cup shredded Monterey Jack cheese
1 cup sour cream
1 can (4 oz.) chopped green chilies, drained
1/8 teaspoon dried thyme
1/8 teaspoon salt
1/8 teaspoon pepper
12 flour tortillas (6 inch), halved
In a mixing bowl, combine cream cheese, onions, 1-1/2 cups Mexican cheese blend, garlic, 1/4 teaspoon cumin and cilantro. Stir in chicken; set aside. In a saucepan, melt butter. Stir in flour until smooth. Gradually add chicken broth. Remove from the heat. Stir in Monterey Jack cheese, sour cream, chilies, thyme, salt, pepper and remaining cumin. Spread 1/2 cup of the cheese sauce in a greased 13x9x2-inch baking dish. Top with six tortilla halves, a third of the chicken mixture and a fourth of the cheese sauce. Repeat tortilla, chicken and cheese sauce layers twice. Top with remaining tortillas, cheese sauce and Mexican cheese. Cover and bake at 350 degrees for 30 minutes. Uncover and bake 10 minutes longer or until heated through. Let stand 5 minutes before cutting. Yield: 12 servings.