Last night, I made a really quick dinner that I just had to share with you. I told you how I've been incorporating more recipes with green vegetables into my meals, and this meal is no exception. I made a lighter version of Chicken Caesar Salad. It was a delicious way to get more vegetables, and it was really filling. The whole salad came together in about 20 minutes and would easily feed a family of four. I can't wait to make this one again.
Did you know there are more than 2,000 farms in Arkansas that raise broiler chickens for meat consumption?
 Ingredients
1 small white onion, chopped fine
1 large head of romaine or 3 small heads, chopped
1 pound boneless skinless chicken, thighs or breast
seasoning mix
shredded Parmesan cheese, to taste
light Caesar dressing, to taste
Caesar croutons, optional
Directions
Combine onion, romaine, dressing and Parmesan. Toss. Meanwhile, lightly coat chicken in olive oil and your favorite seasoning mix. I used a Montreal Chicken rub. Cook the chicken over medium head until done. Chop the chicken roughly. Top salad with chicken, croutons and additional Parmesan, if desired. Serve immediately.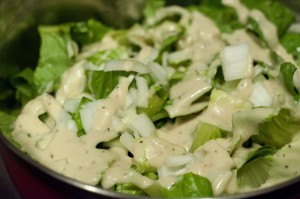 This was taken before I tossed everything together. That is a big bowl of lettuce, I didn't put a lot of dressing on the salad.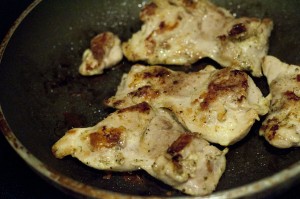 I used boneless, skinless chicken thighs because that is what I had in my freezer.  This would be really good with boneless, skinless tenderloins.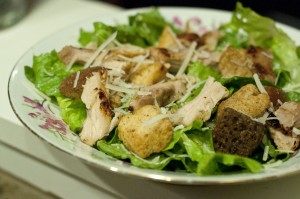 The finished product. Doesn't that look delicious?