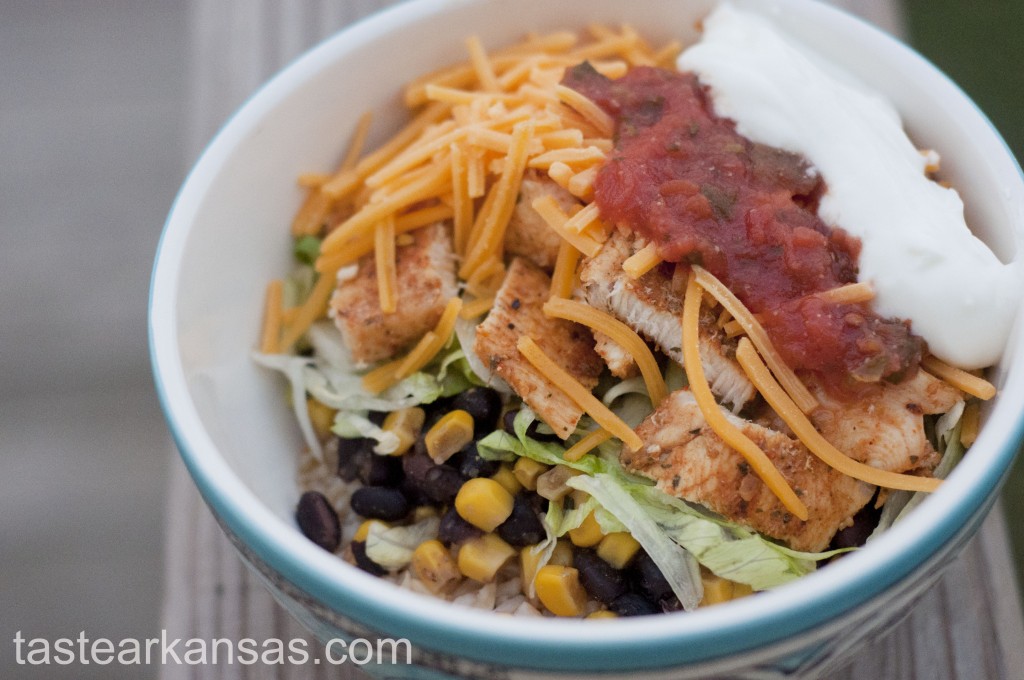 I love the burrito bowls that are popular at some  chain Mexican restaurants, but I recently realized how many calories are in each bowl. Just trust me when I tell you it is ridiculous. So, I decided to make my own Chicken Burrito Bowl at home for a fraction of the cost and calories.  To cut some calories, I used plain Greek yogurt in place of sour cream. Not only does the yogurt add a punch of protein, but you don't lost much in flavor, either. Give it a try! I'm all about making healthy switches.
Did you know that Tyson Foods, based in Arkansas, is the largest poultry processor in the United States?
Ingredients
2 cups brown rice, prepared according to package instructions
1 pound chicken breast strips (raw)
1 packet chicken taco seasoning
1 can black beans
1 can whole kernel corn
1 cup shredded lettuce
1 cup cheddar cheese, shredded
Plain Greek yogurt
Salsa
Olive oil
Directions
Heat a large skilled over medium high heat and add a small amount of olive oil (less than two teaspoons). Meanwhile, generously rub taco seasoning on chicken breast strips.  Once pan has heated, add chicken strips and cook for about 3 minutes on each side or until juices run clear and the internal temperature has reached 165 degrees.
Then, drain can of black beans and add to a saucepan over medium heat with drained can of corn. Heat thoroughly.  Slice chicken breast strips into bite sized pieces.
Layer rice, beans and corn, lettuce, chicken, cheese, plain Greek yogurt and salsa in a bowl and serve.