My mom and dad make the best Chicken and Dumplings. When I was young, a steamy pot of Chicken and Dumplings could always make a bad day better. So last week, when I was having a particularly stressful day, I found myself making a big pot of my old favorite. The moist, yet fluffy, dumplings, creamy broth, tender chicken and veggies will make any day better. I've simplified my parents' recipe and can whip up a big pot of Chicken and Dumplings in about 30 minutes.
Did you know Arkansas is the only state ranked in the top 10 of all three categories of poultry production? The three categories are broilers, eggs and turkeys.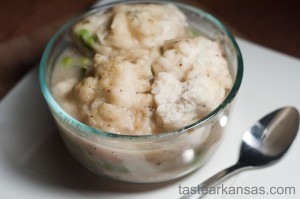 Ingredients
4 boneless skinless chicken breasts, chopped in bite-size pieces
1 medium onion, chopped
2 tablespoons olive oil
2 teaspoons minced garlic
48 ounces low sodium chicken stock
1 (12-ounce) bag frozen peas
1 (12-ounce) bag frozen carrots
1 teaspoon savory seasoning mix
2 teaspoons kosher salt
1 teaspoon pepper
2 cups Bisquick
2/3 cup milk
1 teaspoon oregano
1 teaspoon parsley
Directions
In a large stockpot over medium heat, add onions, olive oil and garlic. Cook until onions just start to turn translucent, stirring occasionally.
Add chicken and cook for ten minutes or until the chicken is almost done; it will be white. Add chicken stock, salt, pepper, savory mix, peas and carrots. Bring to a boil over medium-high heat. Boil for five minutes, stirring occasionally.
In the meantime, combine Bisquick, milk, oregano, and parsley. The dough should be moist. Drop dumpling dough by the heaping spoonful into boiling soup. Cover and simmer over medium heat for another 5 to 10 minutes or until dumplings are no longer doughy and have fluffy centers. The outside will look and be very moist. Serve immediately.