Matt Barclay is executive chef at the fine dining digs on Dixon Street in Fayetteville known as Bordinos. Home to the University of Arkansas Razorbacks, the surrounding beautiful Ozark hills and valleys seem to echo with the calling of the Hogs during home football games. Barclay's Wild Boar Tenderloin with Rice Grits, Collard Greens and Peach Mostarda is his culinary take on calling the hogs. He prefers using Arkansas-grown rice products and local fresh peaches when in season. However, this "wild" hog meat is raised and slaughtered in Texas. How appropriate for Razorback fans.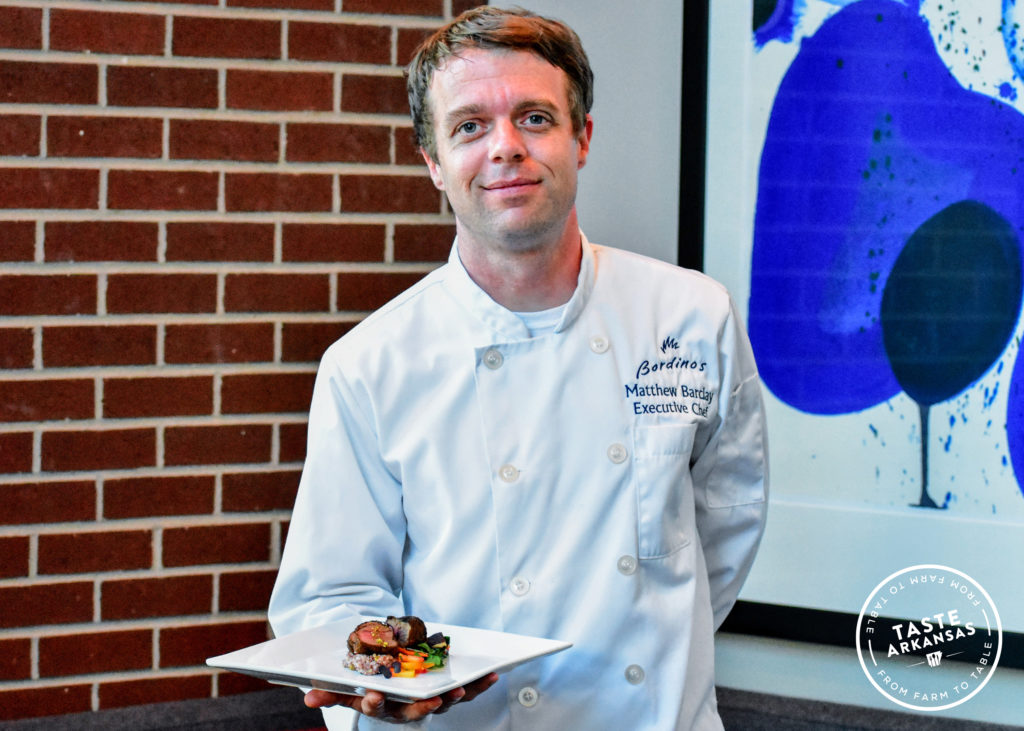 SPICE-RUBBED WILD BOAR TENDERLOIN WITH RICE GRITS, COLLARD GREENS AND PEACH MOSTARDA
3 tablespoons rice bran oil
8 ounces wild boar tenderloin (silver skin removed) cut into two 4-ounce pieces
1 tablespoon spice mix (your choice) Chef Barclay uses ras el hanout
1 cup Ralston Family Farms rice grits (cooked according to box directions)
1 tablespoon Parmesan cheese
3 tablespoons milk
½ ounce butter
½ bunch collard greens, stems removed, washed and cut into 1-inch strips
2 ounces baby carrots, peeled, washed and cut on the diagonal, known as a bias cut
1 ounce bacon sliced to ¼-inch (approximately 1 piece of thick bacon)
4 ounces Shiitake mushrooms, stems removed, wiped clean and cut into quarters
¼ ounce garlic, minced
¼ ounce shallot, minced
¼ ounce roasted pepper, minced
½ teaspoon apple cider vinegar
½ teaspoon pepper vinegar
½ teaspoon sorghum
Salt to taste
Black pepper to taste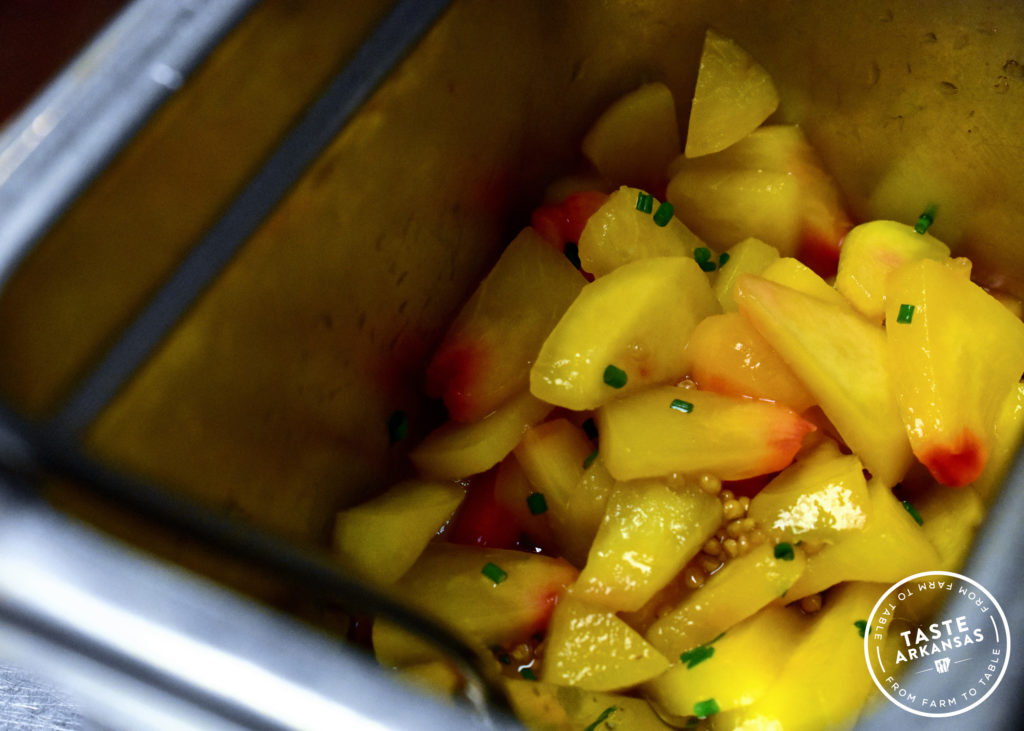 3 medium peaches peeled, pits removed, cut into quarters and then cut into ¼-inch pieces
1 tablespoon white sugar
½ teaspoon mustard seed
1 bay leaf
Small pinch cayenne pepper
2 tablespoons white wine
1 tablespoon lemon juice
½ tablespoon Dijon mustard
4 tablespoons water (divided)
Peach Mostarda
Combine sugar, mustard seed, bay leaf, cayenne, white wine, lemon juice and Dijon mustard in a small saucepan. Cook over low heat until medium syrup is formed, about 10 minutes. The syrup will thicken much more as it cools. When syrup forms, add peaches and gently fold together. Set aside.
Wild Boar Tenderloin
Coat in the oil. Lightly season with salt and coat in the spice mix. Cook to an internal temperature of 135 F on a grill or in a cast iron skillet. It should take about 8-10 minutes depending on the size of the tenderloin, less if meat is room temperature already. It will rest up to 140+ F. Allow it to rest for about 5 minutes.
Assemble the rice grits and collard greens while the boar is searing.
Rice Grits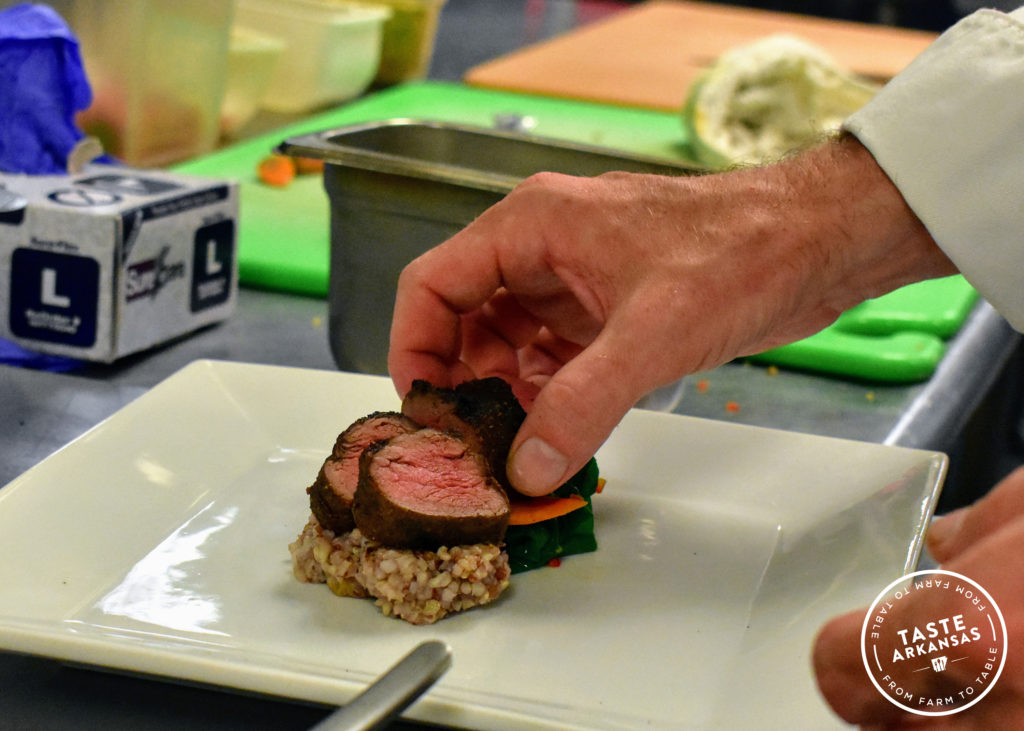 Place cooked rice grits in medium saucepan over very low heat. Stir in milk, Parmesan cheese, butter and a pinch of salt. Cook for 3-4 minutes. Be careful not to overcook it.
Collard Greens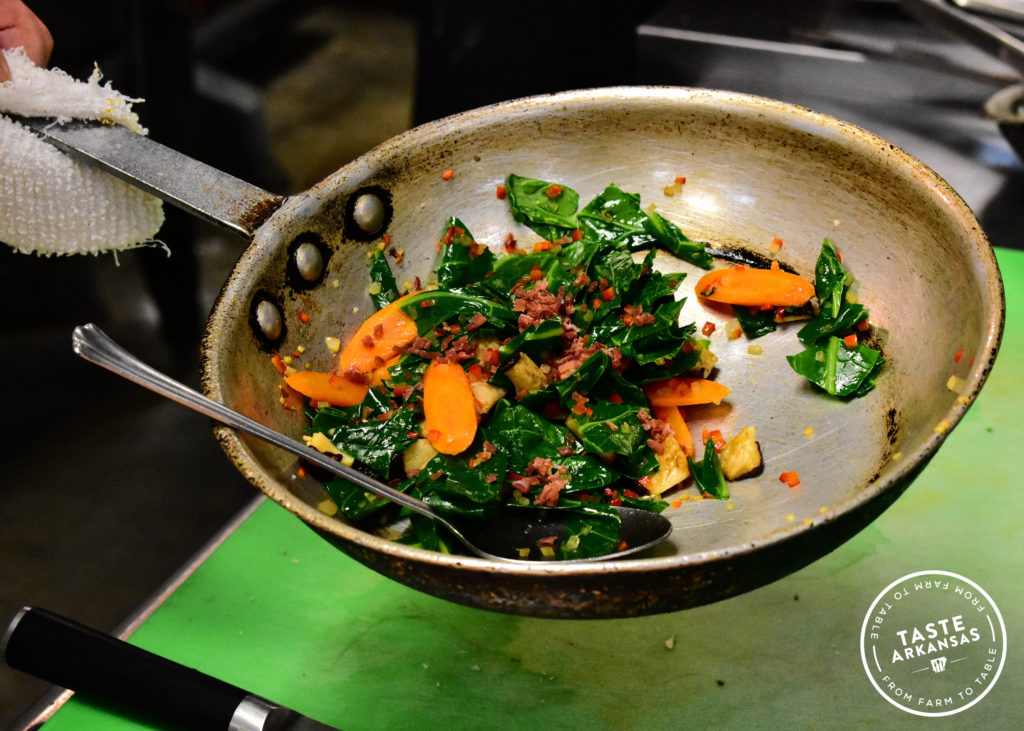 Have all ingredients ready for this part. Add 1 tablespoon of oil to a large skillet. Over low-medium heat, add baby carrots and cook slowly for about 5 minutes. Add bacon, and cook for 1 minute to partly render. Add Shiitake mushroom quarters, and cook for another 1 minute or so. If the pan dries out from mushrooms soaking up oil, just add another half teaspoon of oil or so. Mushrooms will begin releasing water after 2 minutes. When this occurs, add prepped collards and 3 tablespoons of water. Cook until water evaporates. When water evaporates and collards turn forest green, add garlic, shallot, roasted pepper and a small pinch of salt. Be careful not to burn the garlic. Deglaze the pan with last remaining tablespoon of water. This will cool your pan down enough to add final seasoning. Finish collards with sorghum, apple cider vinegar and pepper vinegar. Salt and pepper to taste. Turn off heat and set aside.
Place rice grits, collards and wild boar slices on plates, then garnish with peach mostarda.
Enjoy!
Compiled by Gregg Patterson
Recipe by Bordinos' Executive Chef Matt Barclay
Photos by Mary Catherine Martin