I've been meaning to try this pizza crust recipe for a long time because it is all over pinterest. I finally bought the ingredients the other day and decided to give it a go. The crust's main ingredient is cauliflower. I know you're thinking that I'm crazy, but the crust really doesn't taste like cauliflower. You can tell that it isn't a traditional pizza crust, but I wouldn't guess that cauliflower is the main ingredient. I think this is a great substitute for those of us that are gluten free or are trying to cut down on carbs.
Did you know the average farm size in Arkansas is 281 acres?
Ingredients:
1 cup cooked, riced cauliflower
1 cup shredded mozzarella cheese
1 egg, beaten
1 tsp dried oregano
1/2 tsp crushed garlic
1/2 tsp salt
olive oil
pizza sauce
shredded cheese
pizza toppings
Directions:
 To rice the cauliflower take one large head of fresh cauliflower, remove stems and leaves, and chop the florets into chunks. Add to food processor and pulse until it looks like grain. Do not over-do pulse or you will puree it. If you don't own a food processor, you can grate the head of cauliflower on a cheese grater. Place the riced cauliflower into a microwave safe bowl and microwave for about 8 minutes. Don't add water, the cauliflower has enough moisture to cook itself. One large head should produce about three cups of riced cauliflower. The remainder can be used to make additional pizza crusts immediately, or can be stored in the refrigerator for up to one week.
Preheat oven to 450 degrees. Spray a cookie sheet with non-stick cooking spray.
In a medium bowl, stir together one cup of cauliflower, egg and mozzarella. Add oregano, crushed garlic and salt, stir. Place on cookie sheet and, using your hands, pat out into a nine inch round crust. Brush olive oil over top of mixture to help with browning.
Bake at 450 degrees for 15 minutes.
Remove from oven. To the crust, add sauce, toppings and cheese. Toppings like meat will need to be pre-cooked. Place under a broiler at high heat just until cheese is melted, about three minutes. Serve immediately. This recipe makes enough for two people.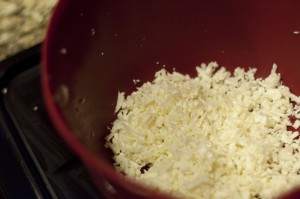 This is what my riced, cooked cauliflower looked like.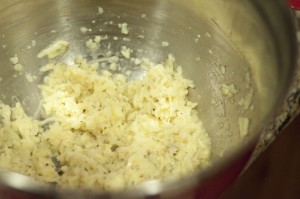 This is what the crust looks like when it is ready to flatten onto the pan. I was really skeptical that it would stay together. It did!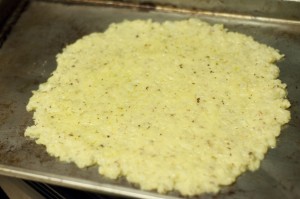 See? Surprisingly it looks pretty good.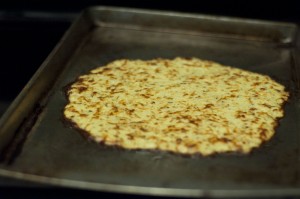 Once it is browned it looks even better!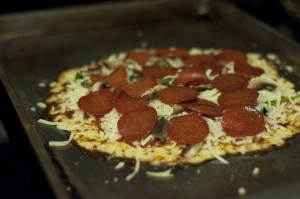 I did the following layers: sauce, sautéed spinach, cheese, sautéed mushrooms and cooked turkey pepperoni.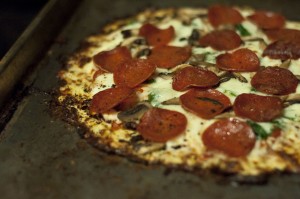 Broil it just until the cheese is good and melted. Doesn't it look good? It tastes good too.