Incorporating fish into your diet has a lot of health benefits. Fish are typically leaner than other types of meat, and the fat they do carry is considered good fat. Catfish is one of my favorite types of fish to eat and fried catfish, although not particularly healthy, is absolutely delectable. The Catfish Po'Boy is a classic catfish dish and a staple of Cajun cuisine. This particular recipe kicks the Po'Boy up a notch with a special spread featuring Tabasco sauce. Give this recipe a try, I promise you won't be disappointed.
Did you know that more than 20,000 acres in Arkansas are devoted to catfish production?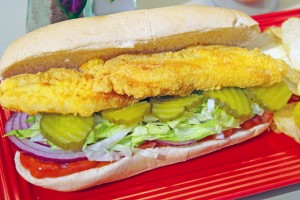 Ingredients
6 large crusty rolls
1 cup ketchup
3 dashes Tabasco sauce
1 tablespoon prepared mustard
1 tablespoon minced onion
6 fried catfish fillets (12 if they're small)
Dill pickles
Shredded lettuce
Instructions
Cut the rolls in half, lengthwise, scoop out the soft centers and discard. Place rolls in the oven until hot but not crispy. Combine ketchup, Tabasco, mustard and onion. Spread this mixture on a hot roll, and then top with a catfish fillet (two if they're small), dill pickles, lettuce and the top of the roll.