I've had pots and pans of all kinds throughout the years. There was the nonstick avocado green set that was all the rage when I got married. The first set of stainless steel was my effort to move away from the "dangers" of the Teflon® scare. (Mostly, I was really tired of avocado green by then.) And there were others, of course, because when you cook like I do and you've been married as long as I have, pans tend to wear out.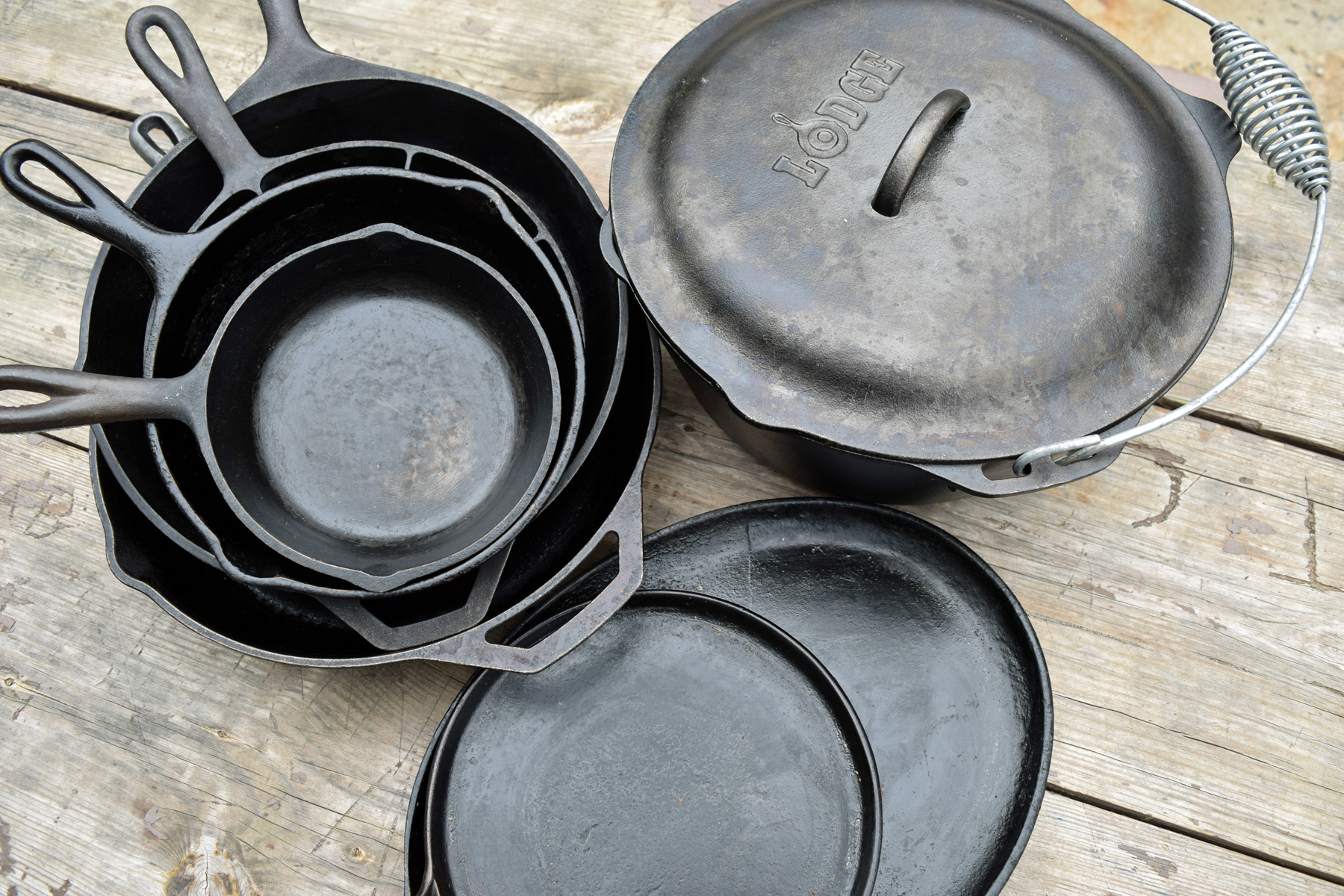 Except, my cast iron, of course. Almost all of the cast-iron skillets, Dutch ovens and assorted other cast-iron vessels I've ever had are just as good today as they were the day I got them, including the skillet used in making this Peach and Blueberry Cobbler.
I did lose my paternal grandmother's cast-iron wash pot in one of our moves unfortunately. It seems the movers let it fall off the truck whereupon both the pot and the street cracked!  While I tried to save that wash pot cum flower pot, eventually it fell apart. I don't have pictures of it, but I do have vivid memories of my grandmother using it on Monday wash day. I've been told that as a toddler the wash pot also became my bathtub. Knowing Mamaw, I have no doubt that she would have used her favorite pot in more ways than I can imagine.
Cast-iron conducts heat exceptionally well and can go from the stovetop to the oven with no problem at all. While I do take good care of my cast iron, I'm not too gentle with it either. The pieces I use the most rarely require re-seasoning.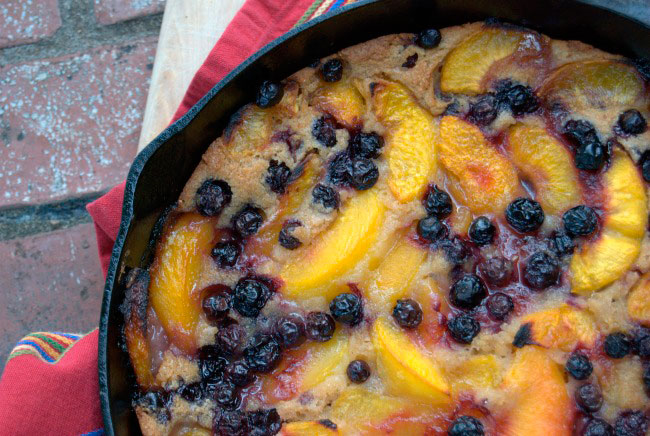 CAST IRON SKILLET PEACH AND BLUEBERRY COBBLER
Serves 10
Total Time 1½ hours
Ingredients:
6 tablespoons unsalted butter
3 tablespoons canola oil
1 cup whole wheat blend or all-purpose flour
1½ teaspoons baking powder
½ teaspoon kosher salt
1 cup milk, soy milk or almond milk
¾ cup granulated sugar plus more for sprinkling on top if desired
1 teaspoon vanilla extract
1 pound ripe peaches, peeled and sliced into eighths
2 cups fresh or frozen blueberries (do not thaw)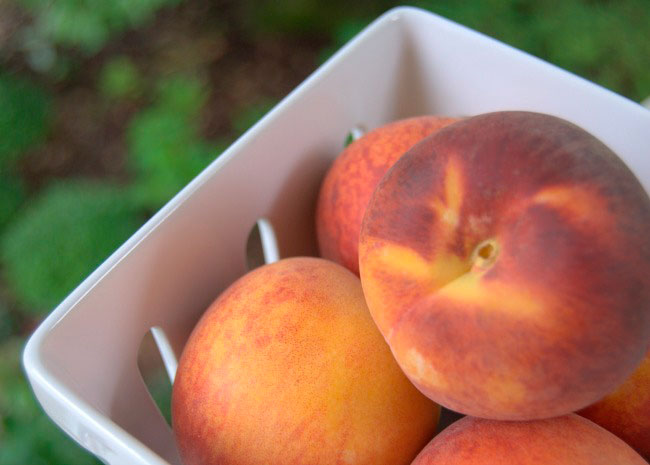 Directions:
Preheat oven to 350°F.
In a 12-inch cast iron skillet, place 4 tablespoons unsalted butter and 3 tablespoons canola oil. Heat in the oven until melted.
In a large bowl, whisk together the flour, baking powder and salt; set aside.
In a small bowl, stir together milk, sugar and vanilla; add to the flour mixture, stirring with a spatula to combine.
Pour the melted butter and oil mixture from the skillet into the batter and stir to combine.
Pour the batter into the hot skillet. Spread the peaches evenly over the batter.
Spread the blueberries over the peaches and the batter; top with the remaining 2 tablespoons butter that has been cubed.
Sprinkle granulated sugar over the top and bake for approximately 60-70 minutes until the top is browned and the batter set.
Cool 15-20 minutes on a wire rack before serving.
Serve with vanilla ice cream or whipped cream.
Try these cast iron skillet dessert favorites:
Strawberry Crisp
Pineapple Upside-down Cake
Nutella Cinnamon Rolls
Skillet Apple Pie
Cherry Clafoutis
Giant SkilletCookie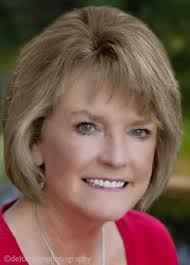 Arkansas Women Blogger member and co-administrator Debbie Arnold pontificates and eats at Dining With Debbie. She and her Hubby split their time between Central and Northwest Arkansas. She loves to cook, develop recipes and have play dates with her two perfect grands. Mostly, she has play dates with the Perfect Ones.