I love Caprese salad. It's a simple salad made of fresh mozzarella, tomatoes, basil and olive oil. I like this salad, because it's filling and flavorful but still light enough for those hot summer days. Making Caprese salad on skewers makes it portable and perfect for summer parties. I'm a big believer in using balsamic vinegar on salads, and it really turns this Caprese skewer into something special. Give it a try at your next summer party or barbecue.
Did you know that, according to the USDA, four out of five people prefer tomatoes to any other homegrown food?
 Ingredients
30 grape or cherry tomatoes
30 fresh basil leaves
4 ounces part-skim mozzarella cheese, cut into 30 (1/2-inch) cubes
2 tablespoons balsamic vinegar
1 tablespoon extra virgin olive oil
1/2 teaspoon kosher salt
1/4 teaspoon freshly ground black pepper
Instructions
Thread tomatoes, basil leaves and mozzarella cheese cubes alternately onto ten (6-inch) skewers. Place skewers on a serving platter.
Combine vinegar and oil in a small bowl; stir well with a whisk. Drizzle vinegar mixture evenly over skewered ingredients, and sprinkle with salt and pepper. Serve immediately, or cover and chill until ready to serve.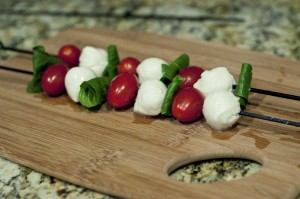 Thread the tomatoes, basil leaves and mozzarella cheese onto skewers. I bought the mozzarella that was packaged in these little nuggets. It was so much easier than trying to cube a bunch of mozzarella.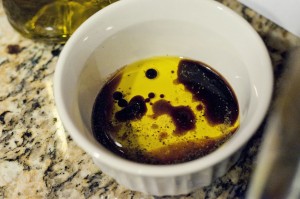 Mix olive oil, salt, pepper and mozzarella. Then drizzle it over the skewered ingredients.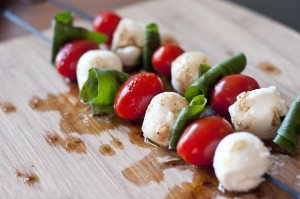 Serve immediately, or refrigerate until ready to serve.