This weekend I'm making a last-minute trip and staying with a friend in Fayetteville. I wanted to make some Christmas cookies to bring with me, but I haven't had time to make my usual decorated sugar cookies. Then, while looking through Pinterest, I found this recipe for Holiday Confetti Cake Batter Cookies. I made a few modifications, frosting instead of sprinkles and olive oil instead of vegetable oil to make my version: Cake Batter Christmas Cookies. These cookies are delicious! They come together in no time. I didn't even have to break out my mixer. They're soft and chewy with the rich flavor of cake batter. I frosted mine, but that's totally optional. They'd be great on their own.
Did you know that Arkansas farmers produce nearly 3 billion eggs per year?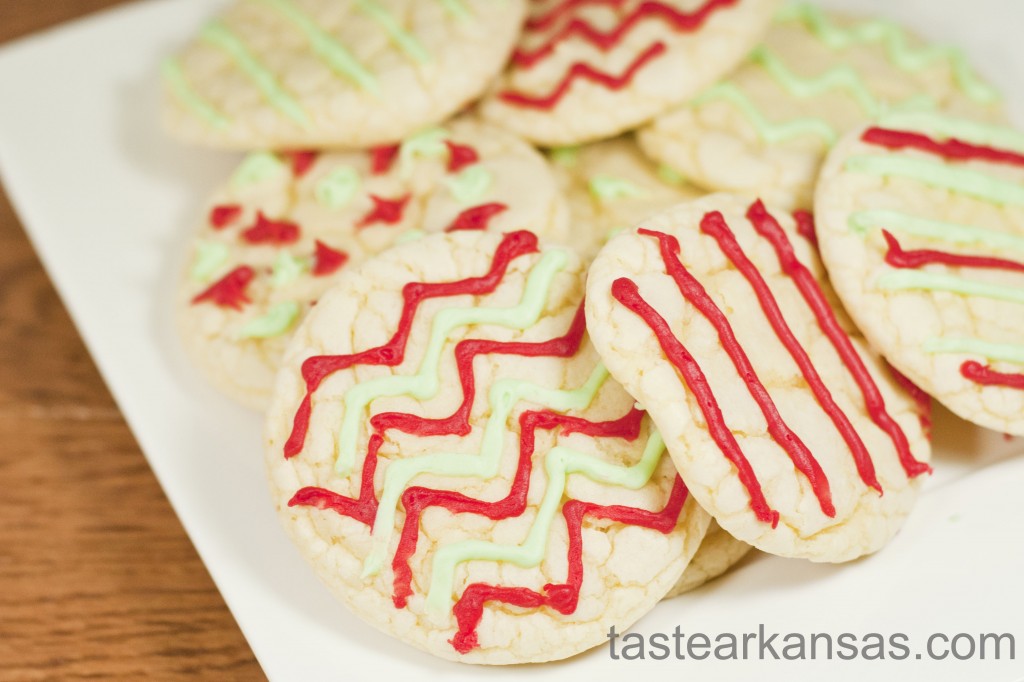 Ingredients
1 box vanilla/white cake mix
1 teaspoon baking powder
2 large eggs
1/3 cup olive oil
1/2 teaspoon vanilla extract
frosting, optional
Directions
Preheat oven to 350F. Line large baking sheet with parchment paper or silicone baking mat. Set aside.
In a large bowl, mix together cake mix and baking powder. Set aside. In a smaller bowl, whisk together the eggs, oil and vanilla by hand. Add the egg mixture to the cake mixture and stir to form dough. Make sure to stir until all of the pockets of dry cake mix are gone. The dough will be sticky and looser than a normal cookie.
Drop rounded 1-inch balls of dough onto prepared baking sheet. Make sure the balls of dough are a little taller than they are wide.
Bake for 9 minutes – don't let the cookies get brown. Cool on baking sheet for 3 minutes; they will be very soft. As they cool, the tops will settle down. Transfer to a wire rack to cool completely. Apply frosting if desired.