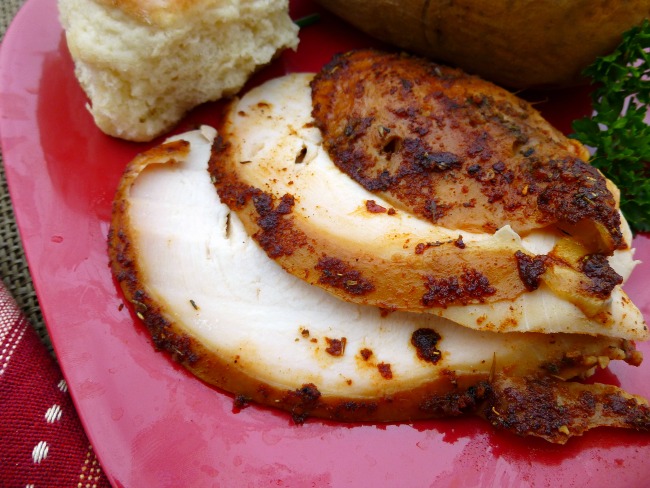 Growing up on an Arkansas farm we ate a lot of chicken. We were proud to support our state's poultry industry. Although my parents have retired from raising chickens, we still have ties with farms across this area that grow broilers. In Arkansas, over 1.1 billion broiler chickens were produced in 2015. That represents a lot of farms across this state. That's also a lot of chicken.
We love to eat chicken in our home. We like it fried, grilled or baked. Recently, I've been smoking a whole chicken. I love trying different methods, such as brining and applying rubs. I also like experimenting with different wood smokes, such as hickory, oak, cherry, maple and pecan.
This recipe takes a couple of days, so you might want to save it for a special occasion. I allow a day for brining and the better part of a day for the rub and smoking. Trust me, it's worth it!
BRINED AND SMOKED WHOLE CHICKEN
Prep Time:
Overnight to brine
3-4 hours to allow the rub to penetrate
2-3 hours to smoke to perfection
Servings: 4-6 per chicken
Ingredients
4 pound whole chicken
Brine
2 quarts warm water
¾ cup brown sugar
1 cup salt
2 tablespoons minced garlic
Rub
½ cup brown sugar
2 tablespoons salt
2 tablespoons paprika
1 tablespoon onion powder
1 tablespoon garlic powder
1 tablespoon seasoned salt (I used Bragg Organic Sprinkles)
1 tablespoon ground mustard
1 tablespoon thyme
1 teaspoon crushed red peppers
1 teaspoon chipotle chili powder
1 teaspoon nutmeg
1 teaspoon ground cloves
Instructions
To Brine Chicken
1. In a large storage container (with a lid), mix warm water, brown sugar, salt, and minced garlic until sugar and salt are dissolved. (I use an empty gallon-sized ice cream bucket.)
2. Cool brine mixture to room temperature.
3. Add whole chicken to container of brine. Add enough cool water to completely cover chicken.
4. Refrigerate overnight or 12-24 hours.
To Rub Chicken
1. In a medium mixing bowl, combine rub ingredients.
2. Remove whole chicken from brine and dry with paper towels.
3. Place whole chicken in baking pan on wire rack.
4. Cover chicken completely with rub, top, bottom, and sides.
5. Cover and refrigerate 3-4 hours or until ready to smoke.
To Smoke Chicken
1. Heat smoker to 250 degrees F following smoker instructions.
2. Use oak and pecan chips to create smoke following smoker instructions.
3. Remove chicken from refrigerator and uncover.
4. Pour water into baking pan under chicken and under rack, but not touching rack.
5. Place chicken in smoker and smoke until internal temperature of thickest part is 165 degrees.
6. Remove from smoker, cover with foil, and allow to sit for 10-15 minutes.
7. Slice and enjoy.
Note: Instead of water in step 4 of the smoking instructions, you can use apple juice, beer, wine or other liquids.