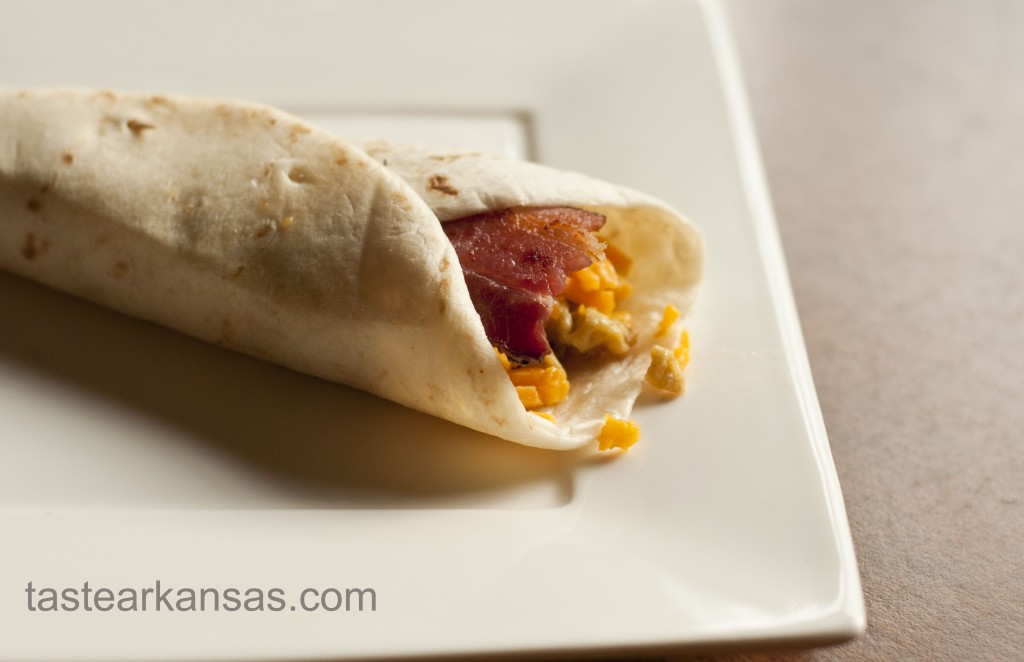 Do you ever have days where not much sounds good to eat? That happened to me last night for dinner, and the only thing I wanted was Breakfast Burritos. I was in luck! I had tortillas leftover from the Steak Quesadillas. These Breakfast Burritos are really simple and might be a bit different from what you normally think of. Honestly, the only thing that is burrito-like is the tortilla. However, if you like eggs, cheese and bacon, you'll like this. Now I'm going to go spend an hour on Pinterest looking for a more burrito-like recipe.
Did you know that Arkansas farmers produce 3 million eggs each year?
Ingredients
4 eggs
½ cup shredded sharp cheddar cheese
4 pieces bacon
½ teaspoon Cavender's Greek Seasoning
2 teaspoons milk
4 fajita-size tortillas
Directions
Heat large skillet to medium heat and pan fry bacon until slightly crispy. Meanwhile, whip eggs and milk until combined.
Remove bacon from pan and drain off bacon grease. Cook eggs in the same skillet, turning and stirring with a spatula until fluffy yet slightly firm.
Divide eggs evenly into tortillas, top with bacon slice and shredded cheese. Wrap and enjoy.