When I was a kid, my family lived in Florida. Thinking about those years always conjures up memories of food. Fried okra from the Geneva gas station, fresh oranges, crab cakes, shrimp scampi and, one of my favorites, boiled peanuts. If you've never had boiled peanuts before, you're probably thinking: "Tara, why would I boil peanuts and eat them?" Why? Because they are awesome! If you've had edamame, boiled peanuts are very similar. They are salty, warm and addictive. For me, they come served up with memories of cool summer nights as a kid. Give them a try. After all, March is National Peanut Month.
Did you know Arkansas farmers are starting to choose peanuts over other crops? In 2010, Arkansas farmers planted 1,000 acres of peanuts. In 2011, 4,000 acres in Arkansas were devoted to peanuts. In fact, Arkansas is home to the only Skippy Peanut Butter processing facility in the United States.
Ingredients
1 pound raw peanuts
¼ cup kosher salt
4 cups water
seasoning
 Instructions
Thoroughly rinse unshelled, raw peanuts in water.
Put water, salt, peanuts and any other desired seasoning in a large stockpot. Bring to a low boil. Cover and reduce heat to maintain a low boil.
Boil for two to three hours or until a desired tenderness is reached. Some people boil their peanuts all day.
Drain and eat within a couple of days.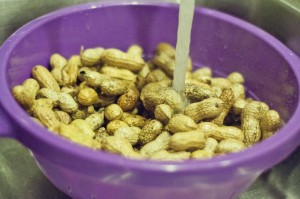 Make sure you rinse the raw peanuts very well. I had a hard time finding raw peanuts but finally found them at Kroger. In a pinch, you can use roasted and salted peanuts. If you have to use roasted and salted peanuts, don't add additional salt until you've tasted them.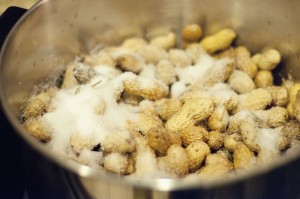 Add all your water, salt, peanuts and any seasonings you like. I didn't add extra seasoning, but I've had them with Old Bay and they are delicious.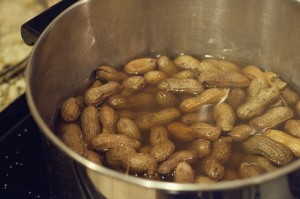 Soft, salty and ready to eat. I ended up cooking mine about four-and-a-half hours. I did add water after two hours and again after three hours to maintain the water level. When I added water I did add some extra salt as well. I really like them salty.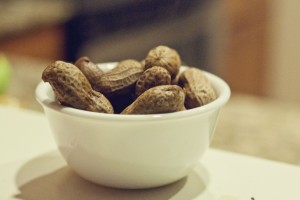 Doesn't that look like the perfect snack?