Bacon is one of my favorite comfort foods. I add it to a lot of recipes, but sometimes I just need a BLT. Crunchy bacon, crisp lettuce, a juicy tomato and toasted bread are all I need to make a stressful day better. I made this BLT with; you guessed it, Petit Jean Bacon and kicked it up a notch with pesto mayonnaise. If you've had a stressful week, make this BLT, sit down and enjoy some bacon therapy. It always works for me.
Did you know only 11.6 cents of every dollar you spend at the grocery store goes to a farmer?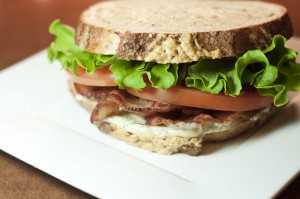 Ingredients
4 slices Petit Jean Bacon
2 slices tomato
2 lettuce leaves
1 tablespoon mayonnaise
1 teaspoon pesto
2 slices bread
Directions
Cook Petit Jean Bacon in a medium-sized skillet over medium to high heat until done. Set aside on two paper towels to soak up any excess grease. Butter bread slices and place under broiler on high until they start to brown. Combine mayonnaise and pesto. Spread pesto mixture on bread slices; add bacon, lettuce and tomato. Enjoy immediately.