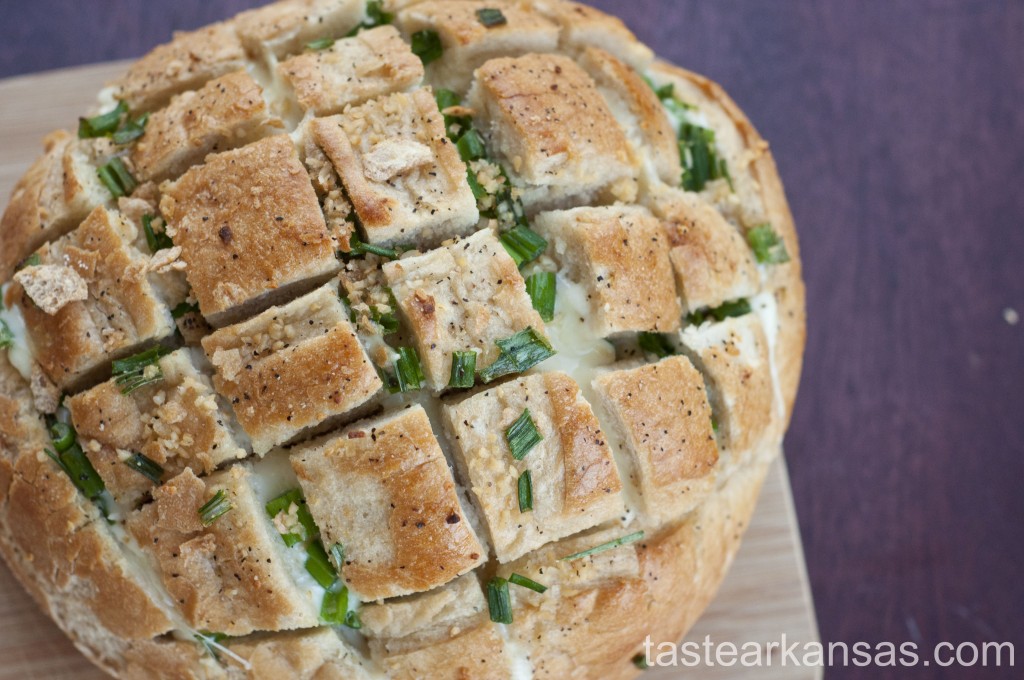 As a side for my dinner that I blogged about here, I made this Blooming Onion Bread. I adapted my version from this recipe. I've made this bread before, back in college when I lived with a house full of roommates, and we loved trying recipes. I'd always meant to make it again. It's definitely good enough to share with y'all. The bread is warm, with a slightly crunchy crust and an oniony, gooey center. As an added bonus, it's really fun to serve this family style in the middle of the table and let everyone tear off hunks of bread. Be careful, you'll get addicted to this Blooming Onion Bread.
Did you know wheat is grown as a winter crop in Arkansas?
Ingredients
1 unsliced loaf sourdough bread
12-16 ounces Monterey Jack cheese, thinly sliced
1/2 cup butter, melted
1/2 cup finely diced green onion
Instructions
Preheat oven to 350 degrees.
Cut the bread lengthwise and width-wise without cutting through the bottom crust. This can be a little tricky, but the bread is forgiving.
Place on a foil-lined baking sheet. Insert cheese slices between cuts. Combine butter, onion and poppy seeds. Drizzle over bread. Wrap in foil; place on a baking sheet.
Bake at 350 degrees for 15 minutes. Unwrap the bread and bake 10 more minutes, or until cheese is melted.