On St. Patrick's Day, I always like to make something green. Usually I end up making a sugar cookie and slapping some green icing on it. Boring! This year I found this recipe for Blarney Stones. These Blarney Stones are a delectable little cookie packed full of flavor. The real Blarney Stone can be found at Blarney Castle in Ireland and is said to give those that kiss it the gift of eloquence. If you make these cookies by the same name, you will have plenty to talk about.
Did you know seven percent of the U.S. milk supply is turned into butter? Another five percent of the U.S. milk supply is exported in the form of dry whey and powder.
Ingredients
1 cup butter, softened
¾ cup packed brown sugar
¼ cup sugar
1 package instant pistachio pudding mix
½ teaspoon vanilla extract
½ teaspoon almond extract
2 eggs
green food coloring, optional
2-½ cups all-purpose flour
1 teaspoon baking soda
1 package butterscotch chips
1 cup chopped walnuts
 Instructions
In a large bowl, cream the butter, sugars, pudding mix and extracts until light and fluffy.
Add eggs, one at a time, beating well after each addition. Add a few drops of green coloring if desired. Combine flour and baking soda; gradually add to creamed mixture.
Stir in chips and nuts. The batter will be stiff. Cover and refrigerate for several hours.
Shape into ½- inch balls and place 2 inches apart on ungreased baking sheets. Bake at 350 degrees for 8 minutes. Remove to wire racks to cool.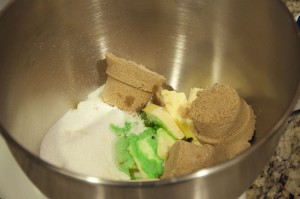 Check out how the pudding mix is already green after I added the extracts. That's how you know this is a good recipe.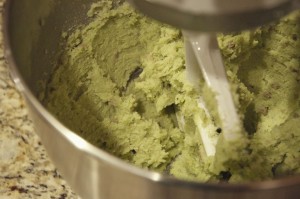 This is as light and fluffy I could get my butter and sugars.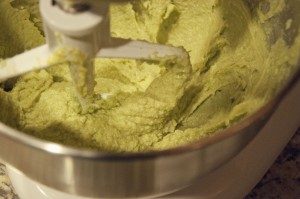 Add your eggs and beat well. The directions say you can add green food coloring here but it's already green!! I didn't add any.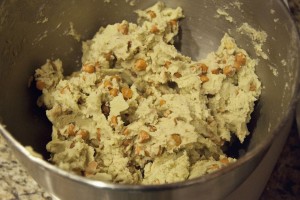 Add all the other stuff and try not to eat all the raw dough. I tried really hard. Cover and chill for a few hours.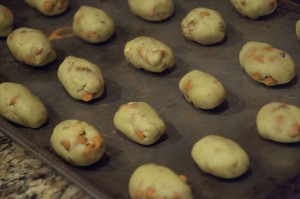 Are these not the cutest little cookie nuggets you have ever seen?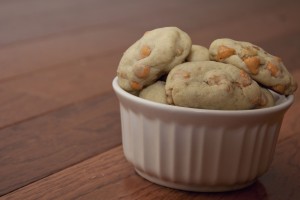 Oh my gosh I can't even articulate how wonderful these cookies are. I had to send them to work with the boyfriend so I wouldn't eat them all.