It's tradition in my family to ring in the New Year with a round of black eyed peas. This Southern comfort food is the centerpiece of a meal that can include pork, corn bread, and collard greens or cabbage. The first meal served in the New Year, it is thought to bring prosperity. But do you know why?
Are black-eyed peas traditionally considered to bring prosperity because:
a. It's an ancient Egyptian traditional food that was eaten to show humility and receive blessings.
b. It's a 1,500 year old Jewish tradition to celebrate the Jewish New Year, Rosh Hashanah.
c. It's a Southern tradition because black-eyed peas, considered fit only for cattle by the Northern army in the Civil War, were the only food left behind for surviving Southerners after Sherman's Bloody March to the Sea in 1864.
d. All of the above.
The correct answer?
"d. All of the above."
Regardless of how we got the tradition, it's an Arkansas favorite for January 1st. Here's a tasty way to cook up some black-eyed peas for your New Year celebration.
PROSPEROUS NEW YEAR BLACK-EYED PEAS
Soak Time for Peas: Overnight
Prep and Cook Time: 3 ½  to 4 hours
Servings: 12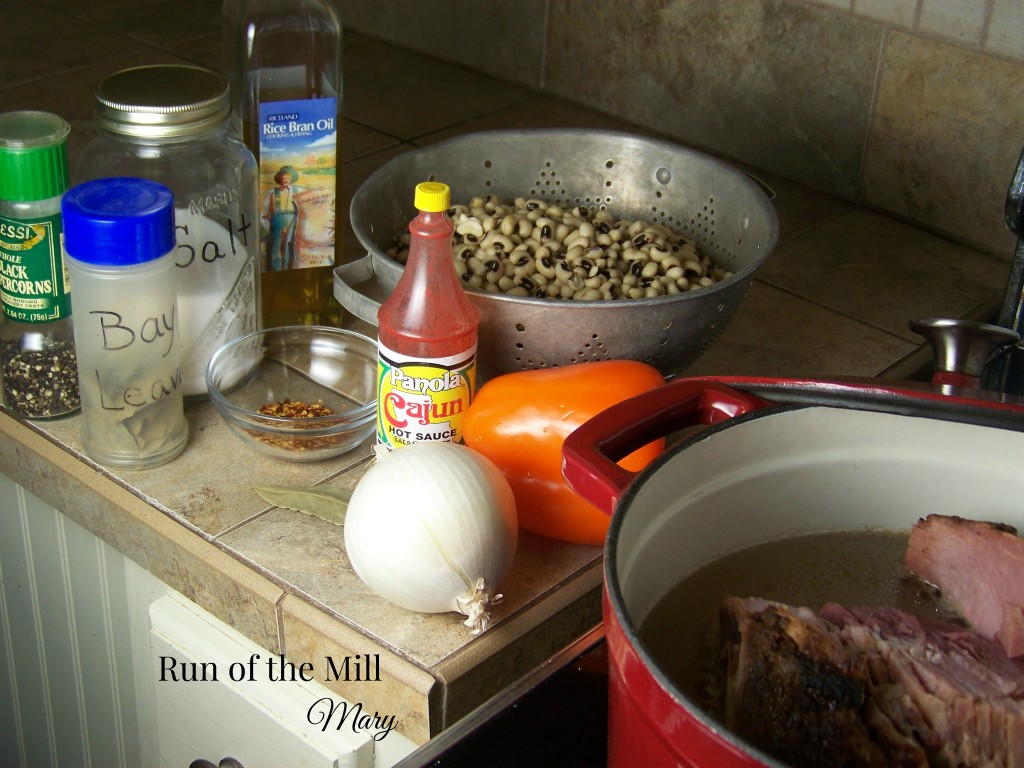 Ingredients:
1 pound dried black-eyed peas
Ham bone OR 1 pound of bacon, cut into 1 inch pieces fried and drained of fat
1 bay leaf
2 tablespoons oil or butter
1 onion, chopped
1 bell pepper, chopped
1 teaspoon salt
½ teaspoon pepper
Optional flavorful additions:
Dash of hot sauce
Pinch of crushed red pepper flakes
Cooking Tip: I like to use the ham bone left over from our Christmas meal to cook with the peas. I remove most, but not all, of the meat from the bone and save the bone in the freezer until New Year's Day. I leave a generous amount of ham on the bone to enjoy with our black-eyed peas.
Instructions:
On New Year's Eve (or the night before) place 1 pound of dried peas in a large pot, cover with water to one to two inches above level of peas, and soak over night.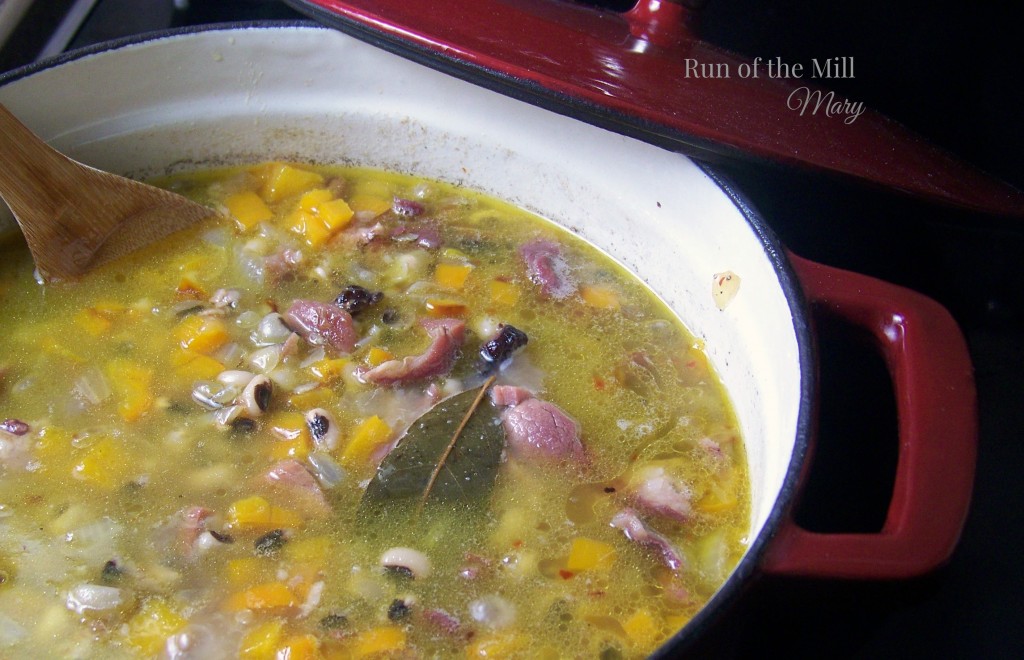 In a large pot, place ham bone and almost cover bone with water.
Bring to boil and then lower heat to simmer for about two hours.
Remove ham bone from pot and remove ham from bone.
Put ham back in bone broth.
Add drained peas and bay leaf to pot with ham.
Simmer until peas are nearly done or 1 to 1 ½ hours.
In a frying pan, add oil or butter and onions and peppers.
Cook onions and peppers until slightly browned.
Add cooked onions and peppers to pot with peas and ham.
Add salt, pepper, hot sauce, and crushed red pepper, if desired.
Cook another 30 to 45 minutes, or until peas are done but not mushy.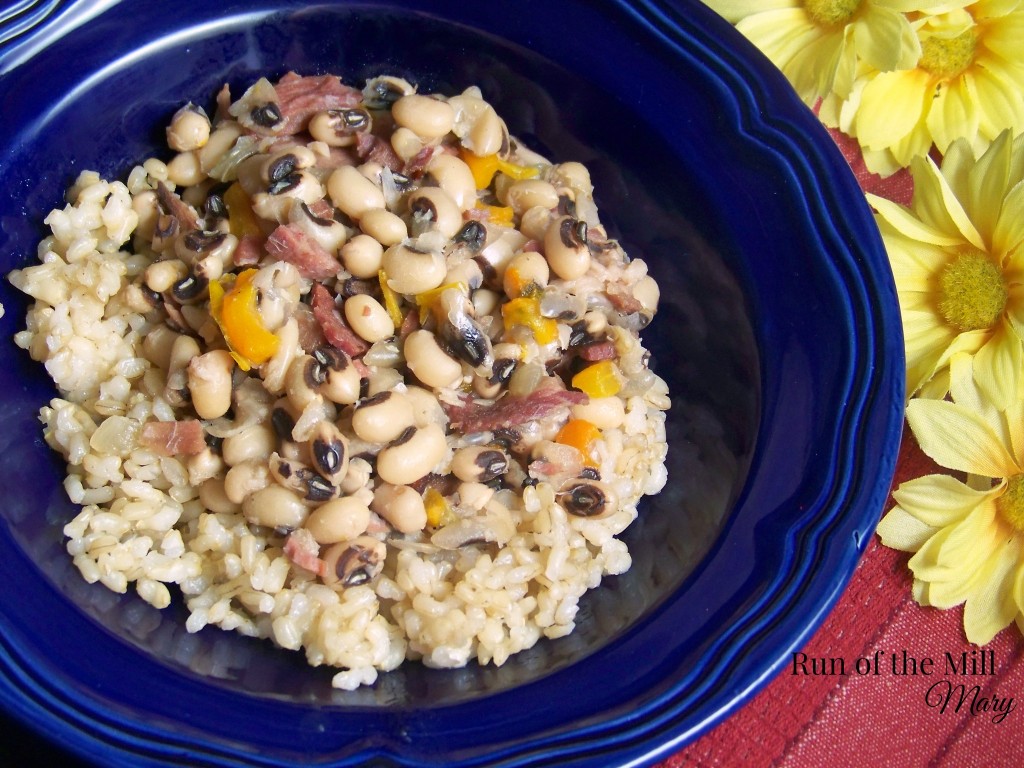 Serve up over rice or with a big ol' piece of homemade cornbread and a side of collard greens or cabbage.
Enjoy your New Year!
Nutritional Information:
Calories per serving: 148
Calories from fat: 38
Dietary Fiber: 10 grams
Protein: 12 grams
Sodium: 449 milligrams
Arkansas Women Bloggers member Mary Wood is a lifetime lover of words. She hails from the suburbs of Nimrod, Arkansas where she is co-owner and number one stacker of wood in her family's sawmill. She loves playing in the dirt and raising a zoo-load of animals on their family farm. Her passions include living life with her husband Steve, son Caleb and all-grown-up daughters Rebecca and Rachel and son-in-law Matt. Homeschooling, writing women's Bible studies, and renovating their home fill up the remainder of her time. She blogs at Run of the Mill Mary.