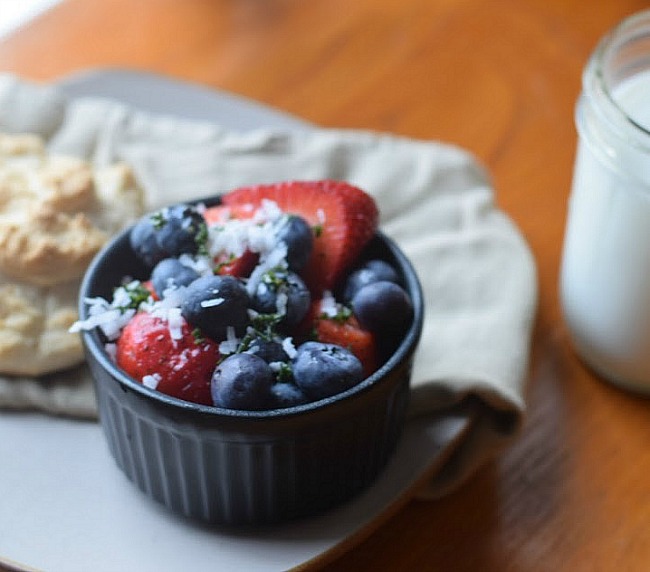 I get a feeling of euphoria when I'm able to walk out the door and pluck fresh mint from my garden to use in the kitchen. This culinary herb is so easy to grow. But it's best to plant it in a container or transfer as the stems grow taller, so it doesn't take over your garden. Mint leaves fresh from a homegrown stem have a distinctly better, purer flavor than those found in the produce section at the grocery store.
There are berry farms all across The Natural State. Strawberry season is off to an early start this year—with some patches opening to the public April 9—while blueberries will start ripening in mid- to late- May. Later in the season, you'll even find blackberries at some of these pick-your-own farms.
Making this berry breakfast salad is a way to spruce up a morning's serving of fruit without using a heavy, sugary cocktail. Any kind of berry will do. For this recipe, I've used blueberries and strawberries. The mint honey sauce dresses up the fruit and adds a nice touch when serving at a brunch or dinner party. Enjoy this delicious berry salad with shortbreads, biscuits or even with ice cream for dessert.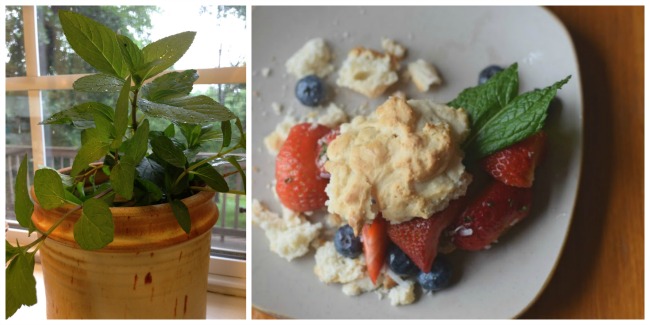 BERRY BREAKFAST SALAD
Ingredients
½ cup honey
⅛ cup water
2 to 3 fresh mint leaves, chopped or cut into slivers
¼ teaspoon almond extract
¼ teaspoon lemon juice (about a squeeze from a fresh lemon wedge)
1 pint fresh strawberries cut into chunks
1 pint fresh blueberries
shredded coconut (optional)
Directions
1. Mix honey and water in a small saucepan over medium heat and bring to a simmer. Add chopped mint and stir. Remove from heat.
2. Add almond extract and lemon juice to the honey water and stir. Allow mixture to cool.
3. Place strawberries and blueberries in a bowl and pour mixture over the berries just before serving. Sprinkle with shredded coconut.
You can use your favorite recipe for biscuits or shortbread, or try this simple sweet biscuit recipe. Feel free to cut your biscuits with a round biscuit cutter. I like to form the dough into rough mounds with my hands.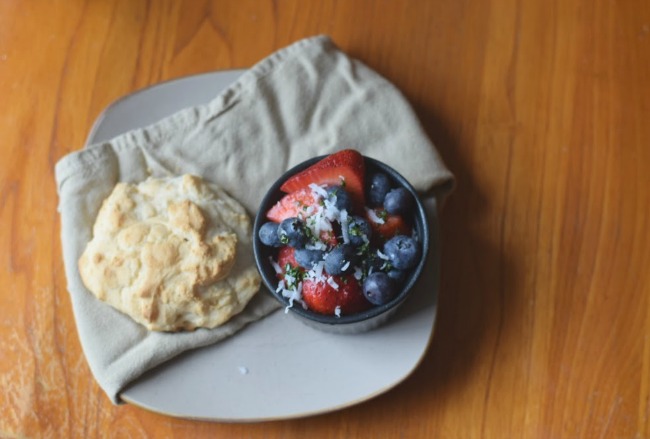 SIMPLE SWEET BISCUITS
Ingredients
1 cup all-purpose flour
1 cup white whole wheat flour
¼ cup additional flour for kneading the dough
1 teaspoon salt
1 tablespoon baking powder
½ cup powdered sugar
½ cup granulated sugar
1 stick (1/4 pound) cold butter, sliced into thin pieces
¾ cup half-and-half or whole milk
1 tablespoon vanilla
Directions
1. Mix dry ingredients using a whisk.
2. Using a pastry cutter, cut in butter throughout dry ingredients.
3. Add vanilla to half-and-half and stir.
4. Pour half-and-half mixture into dry ingredients and use a spatula to fold and stir just until mixed. The moist dough will start to pull from sides of the bowl.
5. Turn dough out onto board covered with flour.
6. Gently knead dough, getting all sides covered with flour and working flour throughout (about 10 times).
7. Spread dough into a circle about one-inch thick.
8. Pull dough from circle and form into 2-inch mounds on a baking sheet.
9. Bake in a 400-degree F oven for about 15 minutes. Look for golden edges and a toothpick that comes out clean when inserted in the middle.
Arkansas Women Bloggers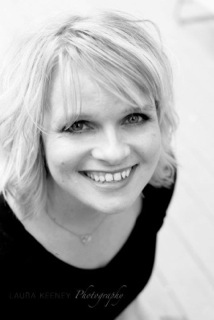 member Rhonda Franz is a freelance writer, licensed teacher, home operations specialist, and domestic chef. She combines her professional background and mommyhood experiences to write on family, parenting, cooking, and education. You can read more about her at captainmom.net and rhondafranz.com.