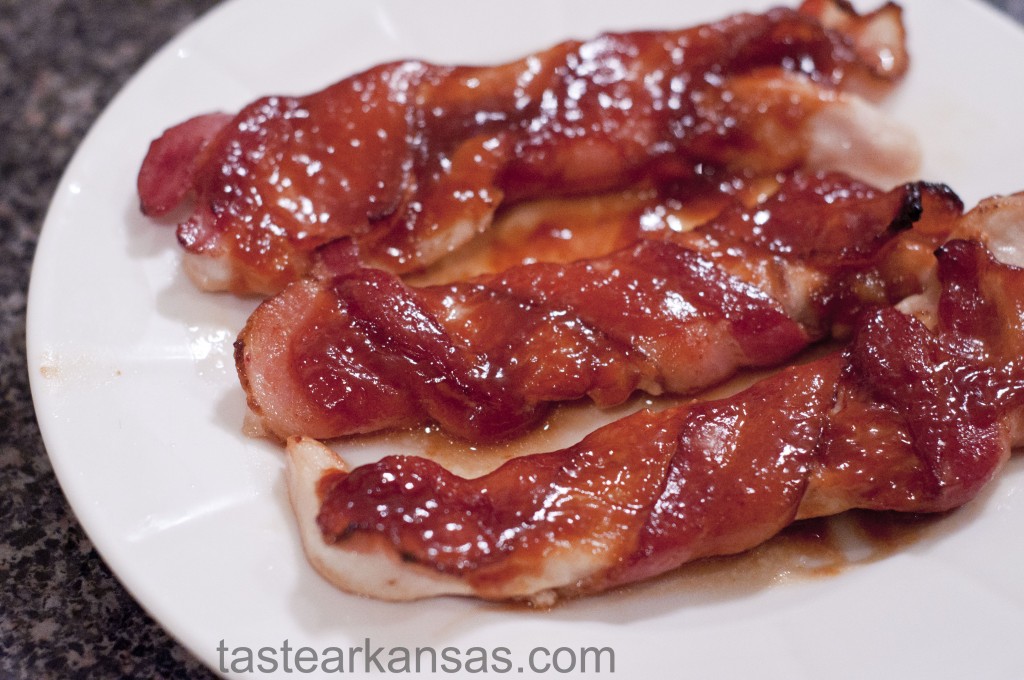 This recipe for BBQ Bacon-Wrapped Chicken is a staple at my house. In fact, it's one of my signature recipes. This is one of those special recipes you keep in your back pocket for the perfect occasion. I decided the Fourth of July was a perfect occasion to share. Spoiler alert! I make my own BBQ sauce, but use your favorite BBQ sauce. If you make my sauce, play around with the ingredient amounts based on your personal tastes. The great thing about this recipe is you can make it in the oven or on the grill. I usually use the oven to make this recipe, because I can line the pan with aluminum foil for a quick clean up. I really appreciate a quick clean up. Try this recipe and let me know what you think!
Did you know that in 2012 Arkansas farmers produced more than 1.2 billion broilers?  Broilers are chickens raised for food.
Sauce Ingredients:
¾ cup ketchup
¼ cup Country Bob's steak sauce
¼ cup brown sugar
3 tablespoons orange juice
2 teaspoons mustard
½ teaspoon vinegar (optional)
Other Ingredients:
1 lb. chicken breast tenderloins
1 package of Petit Jean Meats bacon
Directions:
Mix sauce ingredients in a small sauce pot over medium-low heat and stir to combine. Simmer for 2-3 minutes stirring often.
In the meantime, wrap chicken breast tenderloins with bacon. Try to wrap so both ends of the bacon end up on the same side of the tenderloin. Sear the bacon-wrapped chicken on each side in a non-stick pan over medium heat for 1-2 minutes on each side. This keeps the bacon from unwrapping during the rest of the cooking process.
At this point, slather the tenderloins with BBQ sauce and finish cooking on a hot grill or in an oven at 375.
Depending on how thick your tenderloins are and how long you seared the tenderloins, your cooking time may vary, so watch the chicken carefully. After 10 minutes on the grill or in the oven, use a meat thermometer to check the internal temperature of your chicken. It's done when the internal temperature is 165 degrees.
If using the oven, when chicken is done, broil on high for 1-2 minutes to make sure bacon is crispy.