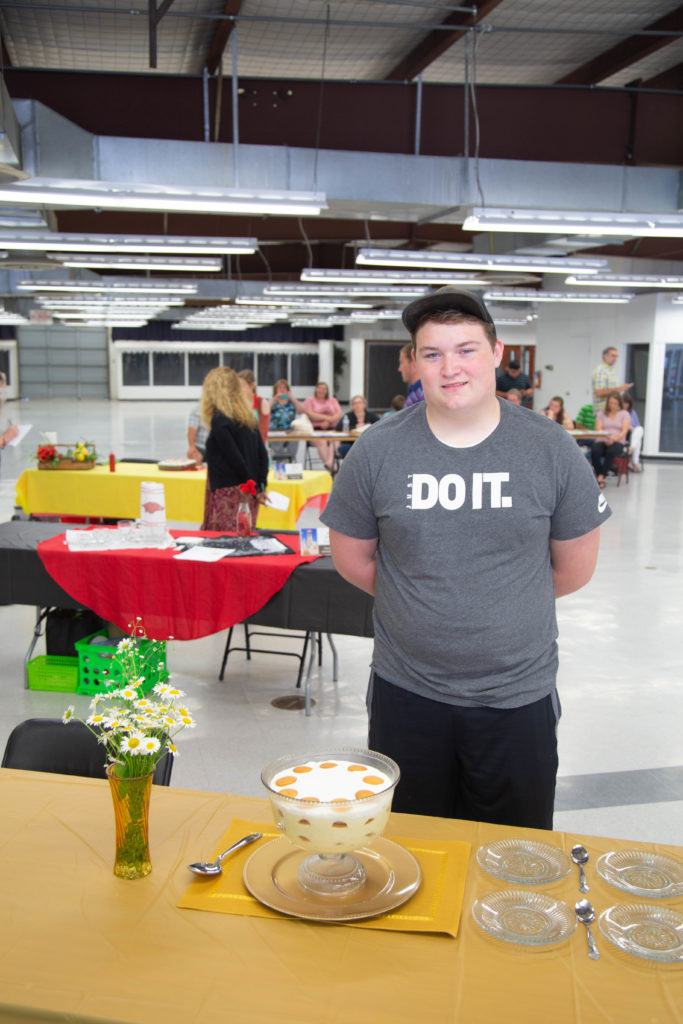 Sixteen-year-old Luke Baker of Siloam Springs loves banana pudding. This recipe of his took second place in the "Party Ideas" category of the 2018 Arkansas Dairy Foods Contest earlier this summer. Baker says the secret to his recipe's success is the baked bananas it requires.
"My recipe tastes great and has great banana flavor," Baker said. "The baked bananas create a more natural flavor than artificially flavored banana pudding mixes."
Baker is positive you'll love it, too. "Who doesn't love banana pudding?" he said. "There are never any leftovers!"
Try this young man's recipe before summer winds down, or keep it in mind for a kid-friendly holiday meal dessert or school or church function treat this fall.
"Better than Grandma's" Banana Pudding Recipe
Servings: 10-12
Pudding Ingredients:
5 medium- to large-sized bananas (slightly under ripe)
3 tablespoons lemon juice (divided)
One 8-ounce package cream cheese (softened)
One 14-ounce can condensed milk (sweetened)
Two 3.4-ounce boxes instant vanilla-flavored pudding
1 cup evaporated milk
2 cups whole milk
1 box vanilla-flavored wafers
Whipped Topping Indgredients:
1 cup heavy whipping cream
3 tablespoons confectioners powdered sugar
½ teaspoon vanilla extract
Directions:
Preheat oven to 325 F. Place 3 unpeeled bananas on a baking sheet, and bake until skins are completely black; about 20 minutes. Let cool for 10-15 minutes. Peel the 2 remaining bananas. Cut them into ¼ inch slices and toss in a bowl with 1 tablespoon of lemon juice, set aside. In a large mixing bowl, combine softened cream cheese and can of sweetened condensed milk. Beat with an electric mixer on medium to high speed until smooth. Add baked peeled bananas and remaining 2 tablespoons of lemon juice. Continue to beat until smooth. Add the boxes of instant pudding, the evaporated milk and whole milk. Continue to beat until thick, about 4 to 5 minutes. Spoon one-third of pudding mixture into a 3-quart Trifle dish. Cover with a later of vanilla wafers, topside down. Place a slice of banana on each wafer and cover with another wafer, topside up. Gently push wafers down slightly into pudding mixture. Continue to layer again with one-third of pudding, another layer of topside down wafer, a banana slice, topside up wafer, ending with remainder of pudding. Save remaining vanilla wafers for garnish. Cover with plastic wrap and set in refrigerator until topping is made.
Combine heavy whipping cream, powdered sugar and vanilla extract in a medium mixing bowl. Beat with an electric mixer on medium to high speed until the whipped topping stands straight up when beaters are lifted. Spread whipped topping on pudding and garnish with remaining vanilla wafers. Cover again with plastic wrap and refrigerate for at least 1 hour or until wafers have softened, about 8 hours. Refrigerate any leftovers for up to 2 days.
Tips:
Use only slightly under-ripe bananas to bake. They become rich and sweet when baked and will not ooze liquid. If the bananas are too ripe, they will become watery when baked and make your pudding runny.
Variations:
Mixture may be layered into any 3-quart bowl or baking dish. Try the recipe with your favorite flavor of instant pudding and graham crackers or crushed sandwich cookies, omitting the bananas, lemon juice and vanilla wafers.
(Runner-up recipe from 2018 Arkansas Dairy Foods Contest "Party Ideas" category from Luke Baker of Siloam Springs, Arkansas.)