I buy bananas every week. They're a great snack. Sometimes if I have a busy week, I won't eat as many bananas, and there will be one or two stragglers that are a little too ripe to eat. That happened to me last week, and I decided to take advantage of it and make some banana pancakes. This recipe is perfect for the whole family. As an added bonus, the aroma of ripe banana and vanilla makes the whole house smell like banana pudding. Who wouldn't want that?
Did you know Americans eat more bananas than any other fruit? The average American will consume more than 26 pounds of bananas annually.
 Ingredients
4 tablespoons unsalted butter
1-1/2 cups all-purpose flour
2 tablespoons sugar
2-1/2 teaspoons baking powder
1/4 teaspoon salt
1 small, very ripe banana, peeled
1 cup milk
2 eggs
1/2 teaspoon vanilla extract
Maple syrup or honey for serving
Sliced bananas for serving
Instructions
Combine the flour, sugar, baking powder and salt in a bowl. Mix with a fork until well blended.
Put the banana in a small bowl. Mash with a fork until almost smooth. Add the milk, eggs and vanilla and stir with the fork until well blended. Melt the butter in a microwave safe bowl. Pour the banana mixture and the melted butter into the flour mixture. Mix gently with a rubber spatula until the batter is just blended. The batter should still be a little bit lumpy.
Put a griddle over medium heat until hot. Drop ¼ cup portions of batter onto the griddle, spacing them about 3 inches apart.
Cook until a few holes form on top of each pancake and the underside is golden brown, about 2 minutes. Carefully slide the metal spatula under each pancake, and turn it over. Cook until the bottom is golden brown and the top is puffed, 1 to 2 minutes more. Transfer the pancakes to a serving plate using a spatula. Repeat with the remaining batter. Serve the pancakes while still hot with maple syrup or honey and sliced bananas.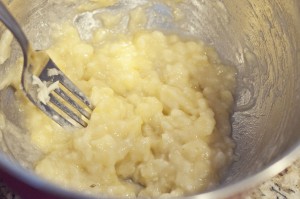 Mash the banana until it is pretty smooth like this.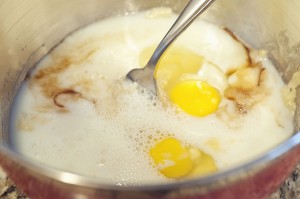 Add eggs, vanilla and milk.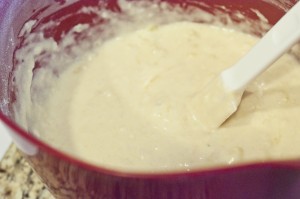 Add the banana mixture to your flour mixture with the melted butter. It will be lumpy like this. At this point your house will start smelling like banana pudding.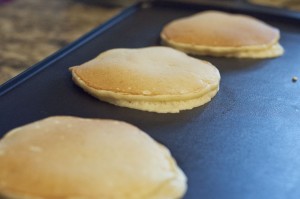 Almost ready to eat!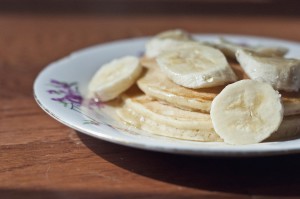 Top your pancakes with sliced bananas and maple syrup or honey. I really like honey, so I used that.