In a house full of meat eaters, it can be difficult to come up with a quick dinner. But this balsamic chicken thigh recipe is fast and easy enough to throw together in the midst of chaos.
In my house everything seems to happen all at once. The dogs are restless, because it won't stop raining. My son has a million questions about preparing for summer camp. My mother-in-law wants to chat, and my husband is just walking in the door from work. Clearly, complicated recipes that involve reading and careful measuring are, well, recipes for disaster. Or, perhaps, they're recipes for frustration, wasted food and takeout pizza.
I don't like to spend a lot of time near the stove in the summer, but I love this recipe. It goes well with almost everything I grow in my garden. My favorite side right now is wilted mustard greens on a bed of brown rice. Later this summer, I'll serve it with sliced tomatoes, roasted okra or spicy sautéed summer squash.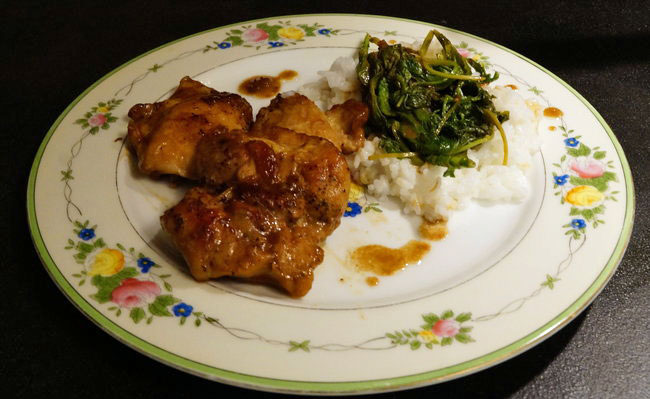 BALSAMIC CHICKEN THIGHS
Ingredients:
1 tablespoon refined coconut oil or vegetable oil
1 tablespoon salted butter
Salt and pepper
8 boneless, skinless chicken thighs
3 cloves garlic, pressed
½ cup chicken broth
½ cup balsamic vinegar
¼ cup heavy cream
1 tablespoon brown sugar
Fresh cilantro (optional)
 Instructions:
In a large iron skillet over medium high heat, melt oil and butter. Salt and pepper both sides of the chicken and place it in the hot skillet, spaced evenly.
Reduce the heat to medium and allow the chicken to cook about 8 minutes on each side. Turn the chicken when it develops a golden brown color on the bottom.
Remove the chicken and set it aside to deglaze the pan. Pour the chicken broth into the pan and use a spatula to scrape the bits of chicken off the bottom. Add the vinegar, cream, sugar and garlic and mix well.
Return the chicken to the pan to finish cooking, 5-10 minutes. The dish is done when the chicken is cooked through and the sauce thickens.
Serve on a bed of greens or rice and drizzle with the remaining balsamic sauce. Top with chopped cilantro.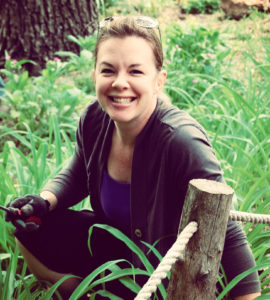 Tiffany Selvey is a Master Gardener who writes about her passion for growing, cooking and living naturally. When she's not elbow deep in soil, she enjoys raising a very active son, laughing with her husband, and wrangling their pets.