When I stumble across a great recipe, I can't wait to share it with you. I made this recipe last night and could barely wait this long to share it. Baked Eggs are such a simple concept. I'm a little annoyed at not having figured this out on my own. I happened to have mozzarella, turkey pepperoni and Parmesan in the fridge. That's why my baked eggs are pizza flavored. You could easily change this up with bacon, spinach and fresh herbs. You could also throw in cheddar and ham. The possibilities are endless.
Did you know that farmers only receive an average of 11.6 cents of every dollar spent at the grocery store?
Ingredients:
1 tablespoon unsalted butter, softened
½ cup mozzarella, grated
½ cup Parmesan, grated
2 teaspoons pizza or Italian seasoning
8 eggs
12 pieces of turkey pepperoni, roughly chopped
salt and pepper to taste
Directions:
Heat oven to 375°F. Butter four ramekins. Crack two eggs into a bowl or cup, taking care not to break the yolks. Pour the two eggs into a ramekin and repeat until all four ramekins have eggs.
Sprinkle even amounts of mozzarella, Parmesan, seasoning and pepperoni over eggs. Salt and pepper to taste. Bake the eggs for 10-15 minutes until the eggs are done the way you want them: less time for runny yolks, more time for firm yolks. Serve immediately.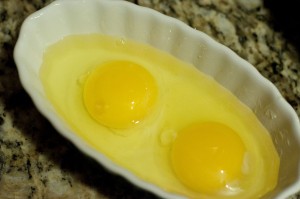 Two eggs per ramekin. Simple enough.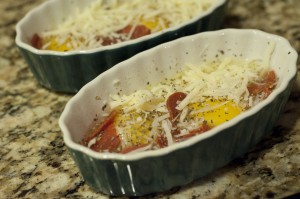 Sprinkle in your toppings. Get crazy! This is the fun part.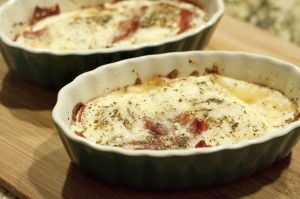 Then you end up with a glorious ramekin of deliciousness. Enjoy!