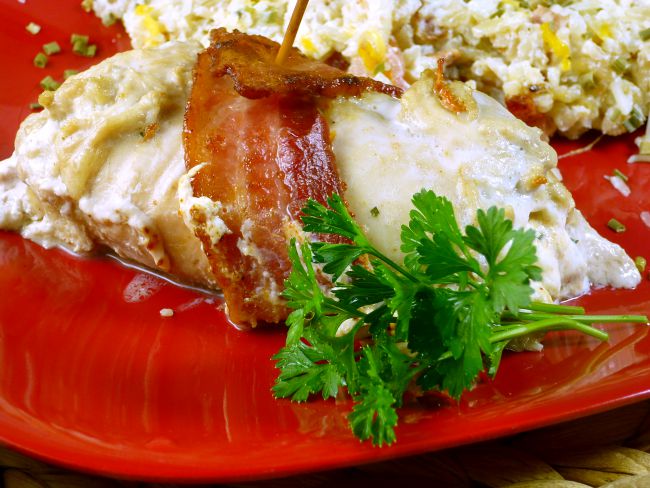 by Arkansas Women Bloggers member Mary Wood of Run of the Mill Mary
On our family farm growing up, one of our primary sources of farm income was growing broiler chickens. For approximately six weeks, we carefully managed every aspect of the growing environment: temperature, feed, water, light, health, etc. When the chickens were picked up at the end of the six weeks, we breathed a sigh of relief at a job accomplished. But where one job ends, another begins.
Poultry farmers use the time between 'batches' of chickens to make repairs and updates to their chicken houses. Arkansas chicken farmers are on the cutting edge of poultry technology. New methods and equipment enable our farmers to produce chicken more efficiently and provide a better, more sustainable product for consumers.
In honor of the importance of chicken production in Arkansas and my family history, we present this delightfully creamy chicken recipe: Bacon Wrapped Chicken with Cream Cheese. It's the perfect comfort food for those fall evening meals.
BACON WRAPPED CHICKEN WITH CREAM CHEESE
Prep Time: 1 hour
Servings: 6
Ingredients:
6 fresh boneless chicken breasts
1 (8 ounce) package cream cheese
½ cup Parmesan cheese
½ teaspoon garlic powder
¼ teaspoon paprika
¼ cup crumbled bacon
6 whole pieces of bacon cooked, but not crispy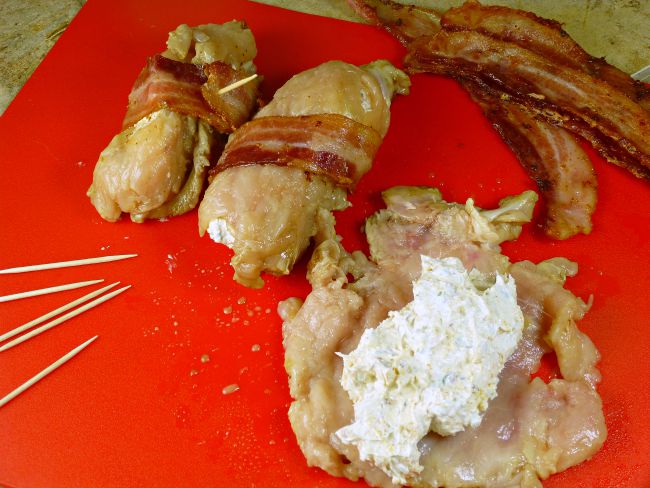 Instructions:
1. Preheat oven to 400 degrees.
2. Flatten chicken breasts to ¼ inch thickness.
To Flatten Chicken Breasts:
A. Place one chicken breast in a gallon zip bag.
B. Place bag with chicken piece on wooden cutting board.
C. With FLAT side of tenderizing hammer (or a cast iron skillet), pound chicken (in bag) starting in the center and working in circles to the outside.
D. Pound until an even ¼ inch thickness.
E. Repeat until all are flattened.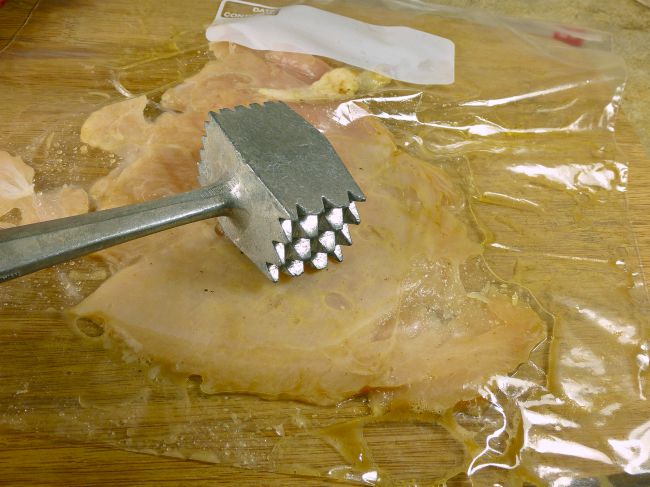 3. In medium mixing bowl, combine cream cheese, Parmesan cheese, garlic powder, paprika, and crumbled bacon until smooth and creamy.
4. On dinner plate, lay one flattened chicken breast in the center.
5. Divide cream cheese mixture into 6 parts. Spread one part on center of chicken breast.
6. Roll chicken breast from one side.
7. Roll one bacon slice around rolled chicken breast.
8. Secure roll with toothpick and repeat with other chicken breasts.
9. In a greased baking dish, place chicken breast rolls.
10. Bake for 20 minutes, or until chicken is fully cooked and cream cheese filling is heated through.
Serve with Rustic Roasted Vegetables or Spicy Garlic Collard Greens