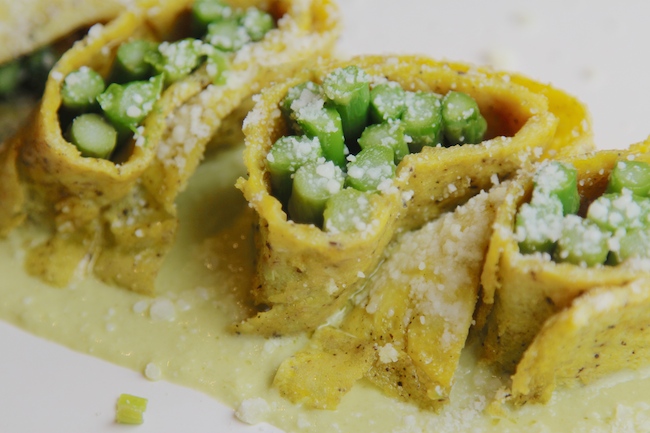 Enjoying spring yet?  Don't you just love the green buds bursting forth and daffodils popping up to say hello?  The first signs of spring have me anticipating the freshness of seasonal produce and the opportunities to make the most of them. In honor of spring, this dish highlights just a few of these seasonal early birds: asparagus and spring onions all rolled up in a bite-sized base of eggs. The chickens are happy scratching around in the new green blades of grasses, so it only seemed appropriate to marry these flavors.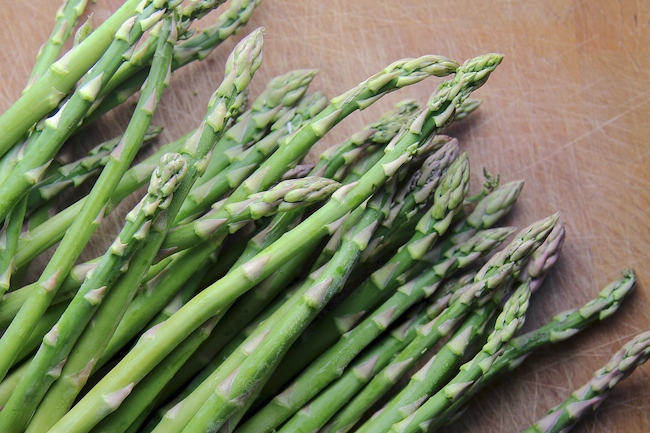 If you're looking for a versatile sauce to drizzle on eggs, fish, pasta or chicken, look no further. This sauce is a winner and brings out the freshness of spring onions. It's bursting with flavor, and you'll have wished you made a gallon of it. Feel free to double the recipe and use it in another dish. You just can't beat the freshness of spring.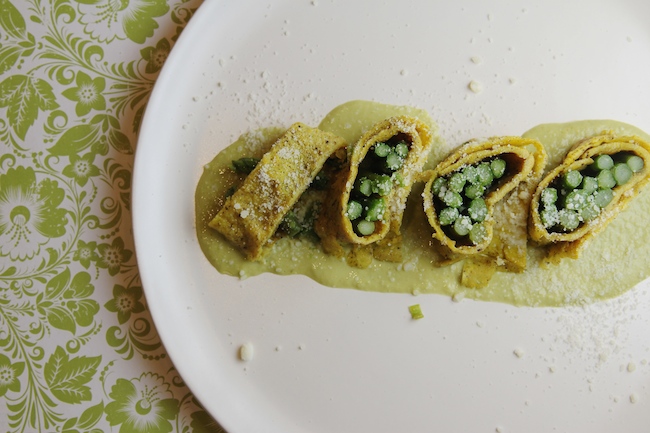 ASPARAGUS OMLET ROLLS WITH SPRING ONION SAUCE
Makes 10 bite-sized rolls
Ingredients
12 pieces of asparagus
4 tablespoons of butter
3 spring onions
2 tablespoons of chicken broth
1 minced garlic clove
2 tablespoons finely grated Parmesan cheese
3 eggs
½ teaspoon cracked black pepper
¼ teaspoon sea salt
Instructions
Boil 3 quarts of water.
Clean and trim the asparagus and add to the boiling water for 5 minutes or until a knife can easily pierce it. Remove and set aside.
While the asparagus is cooking, thinly slice spring onions.
Add 2 tablespoons butter to skillet on medium-high heat. Once butter melts, add the spring onions and cook until tender, approximately 2 minutes.
Add chicken broth and garlic and reduce heat to low for 5 minutes.
Add 1 tablespoon cheese and continue cooking for additional 5 minutes and remove from heat.
Puree in blender or NutriBullet and set aside.
Crack eggs and hand whip until fully incorporated.
Add sea salt and pepper to eggs.
Add 2 tablespoons butter to large skillet on medium heat until butter melts and stops sizzling.
Slowly add eggs to skillet and let set for 5 minutes.
Stack asparagus to one side with spears pointing both ways.
Add 1 tablespoon of cheese to the opposite side of omelet to use as "glue." Set on high for 5 minutes.
Roll omelet as tightly as possible with spatula until it's completely rolled.
Transfer to parchment paper on cutting board and slice in 10 even slices.
Plate on dish using the spring onion sauce as the base and add the omelet rolls on top of the sauce. Sprinkle with cheese as garnish.
Eat well, my friends.
Lyndi
Arkansas Women Blogger member Lyndi Fultz writes about living and eating well from her life in beautiful northwest Arkansas at nwafoodie. Much of her blogging inspiration comes from this gem of a place, which she refers to as the proverbial land of milk-and-honey. Read more related to cooking, entertaining, gadget suggestions, ingredient explorations, local finds, local restaurant treasures, kitchen tour spotlights and always with a healthy and simplistic approach.