By Arkansas Women Bloggers member Rhonda Franz of Captainmom.net
Mouth-watering, juicy sweet peaches on a sugar cookie crust: sounds like a taste of summer heaven, doesn't it? That is precisely what peach pizza is.
The idea for this peach pizza came from my mom's delicious fruit pizza recipe. Her combination of fresh fruits like strawberries and blueberries and pineapple mixed with a cream cheese frosting made the perfect dessert, but the soft, cookie-like crust was the hit of the recipe. She made the pizza many times for special events. In my childhood home, it was a favorite.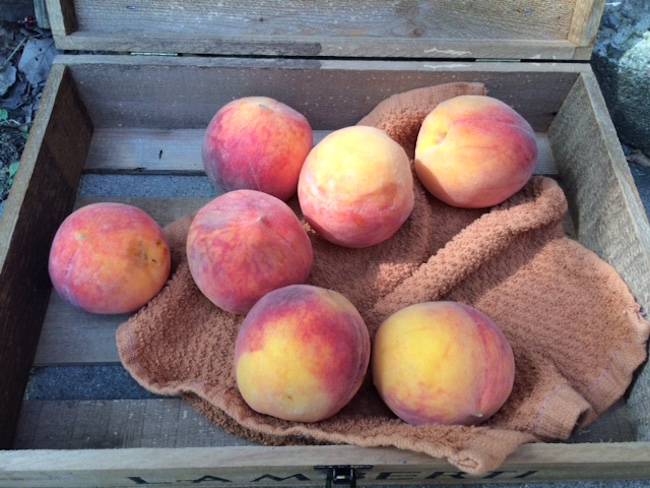 The dough for her crust came from a sour cream cookie recipe in an old cookbook, a recipe she adapted to be made for cooking into one crust. I changed it up a bit more to go with a favorite summer fruit in my family: Arkansas peaches from the nearby orchard. We enjoy this for dessert, for a scrumptious afternoon snack, and yes, sometimes for breakfast.
PEACH PIZZA
Grilled Peach Topping (Grilling the peaches is optional: you can just use sliced peaches as they are)
Ingredients
8 ripe peaches, sliced thin (about 12 slices per peach)
¼ cup (½ stick) butter, melted plus extra for pan or griddle
pinch of salt
½ teaspoon almond extract
Instructions
1. Set iron skillet, grill pan, or griddle over the burner on med-high heat and brush generously with butter.
2. Mix melted butter, salt, and almond extract together.
3. Place peaches in a large bowl. Pour over butter mixture and stir gently with a spatula to coat peach slices.
4. Using tongs or a spatula, lay peach slices on the skillet and leave for about five minutes. Turn over and grill on other side.
5. Set peach slices out on paper towels to soak up juice while preparing the crust. You can also set peaches on a cookie rack over a baking sheet to catch the juice to save it.
Peach Pizza Crust
Full recipe makes two 12-inch crusts
Each pizza serves about 6 people
Ingredients
• 3 cups white whole-wheat flour, sifted
• 1 teaspoon baking powder
• ½ teaspoon baking soda
• ½ teaspoon salt
• 1 cup (2 sticks) butter, softened
• 2 eggs
• 1 cup sour cream
• 1 ½ cup sugar
• 1 tablespoon vanilla
• about 1 cup powdered sugar for sprinkling
• about ½ cup cream cheese for topping.
Instructions
1. With a whisk, mix together flour, baking powder, baking soda and salt. Set aside.
2. Beat butter, sugar and eggs until fluffy.
3. Mix in sour cream and vanilla slowly until mixture is smooth.
4. Gradually stir in flour mixture. Refrigerate dough for at least two hours.
5. Use hands to form half the dough into a round crust on an oiled or buttered pizza pan. (This is kind of wet dough; you can use a bit of all-purpose white flour to help with the sticking.) Use a spatula, your hands, or the back of a large spoon to spread dough about ½ inch thick.
6. Bake dough on 350 degrees for five minutes.
7. Remove from oven and sift powdered sugar over entire crust. Top with half the peach mixture, spreading it evenly and leaving about ½ inch space around inside of crust.
8. Cut or pull cream cheese into small rough cubes or balls. Sprinkle evenly over the top of the peaches. Sift powdered sugar over top of peaches and cream cheese.
9. Place in oven and bake for about 20 minutes. Watch for crust to start getting a bit golden.
10. Remove from oven and sift powdered sugar over the pizza again. Do that once more after slicing with a pizza cutter and just before serving.
* This recipe makes two peach pizzas. Keep the remaining peaches and dough in the refrigerator for a peach pizza on another day. You can also make two pizzas at once, hiding one away for yourself. Or you can make two and give one to a neighbor, which is always a nice thing to do.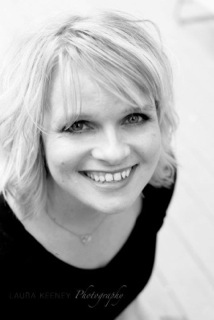 Arkansas Women Bloggers member Rhonda Franz is a freelance writer, licensed teacher, home operations specialist, and domestic chef. She combines her professional background and mommyhood experiences to write on family, parenting, cooking, and education. You can read more about her at captainmom.net and rhondafranz.com.