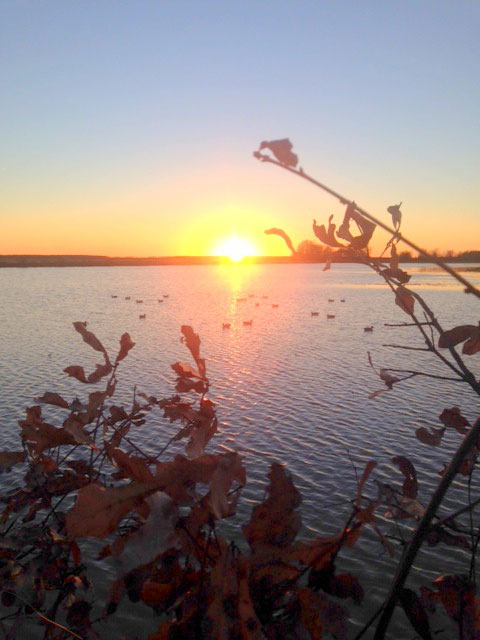 They fly in by the millions from their spring and summer prairie habitats in Canada and the Dakotas, darkening the skies on their winter migration to the rice fields and backwaters of Arkansas and the coastal marshlands of Mississippi and Louisiana. Gadwalls, teal, pintails, wood ducks, spoonbills, canvasbacks and the prized mallard; all heralding duck fever which spreads across the South, generally from mid-November through late January.
I wasn't born into a duck-hunting family. Growing up in rural central Arkansas, the hunters in my family were seekers of deer or squirrel. Some fished the lakes and streams for crappie or the muddy bottoms for catfish. They could be found trekking off through the brush piles and power line trails to bag limits of quail or perhaps hunkered down in the deep woods eager to get an occasional wild turkey. Hunting and fishing put meat on our table. But duck? Never.
It took a major life event to make that happen. I married a duck hunter. However, my duck hunter presented a challenge. My husband, the lover of all things duck gear and duck hunting, has never liked to eat it, to the good fortune of our family and friends who do. For someone like me who grew up cooking and eating the fruits of the hunt, this was like throwing down the ultimate gauntlet. I would find a way.  Little did I know it would take more than 40 years and many ducks and recipes to find it.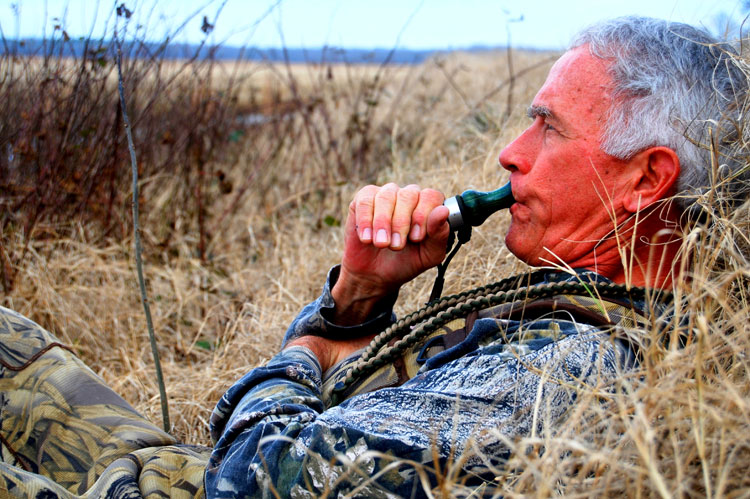 Now mind you, this is a man who gladly eats whatever I place before him, except duck (and mushrooms, but that's another story). I won't begin to go into the methods, marinades, brines and brews I tried in my myriad attempts at duck culinary success – a sad story indeed.
It would take a little jaunt down to the Arkansas Delta and a visit with Lake Village entrepreneurs Paul and Debbie Michael, to unlock the secret. Not only do the Michael's have a passion for the beautiful and unique in craftsman furniture and home interiors but also for hunting and cooking. Along with several Arkansas Women Bloggers, I was privileged to join the Michael family and friends at their hunting camp for a feast of venison tenderloin and trimmings prepared for us by Paul, Debbie and their children Lizzy and Jake. I've eaten venison all my life, but never have I had it prepared as well as that. It didn't take much to convince me the man knew what he was talking about with wild game, ducks included.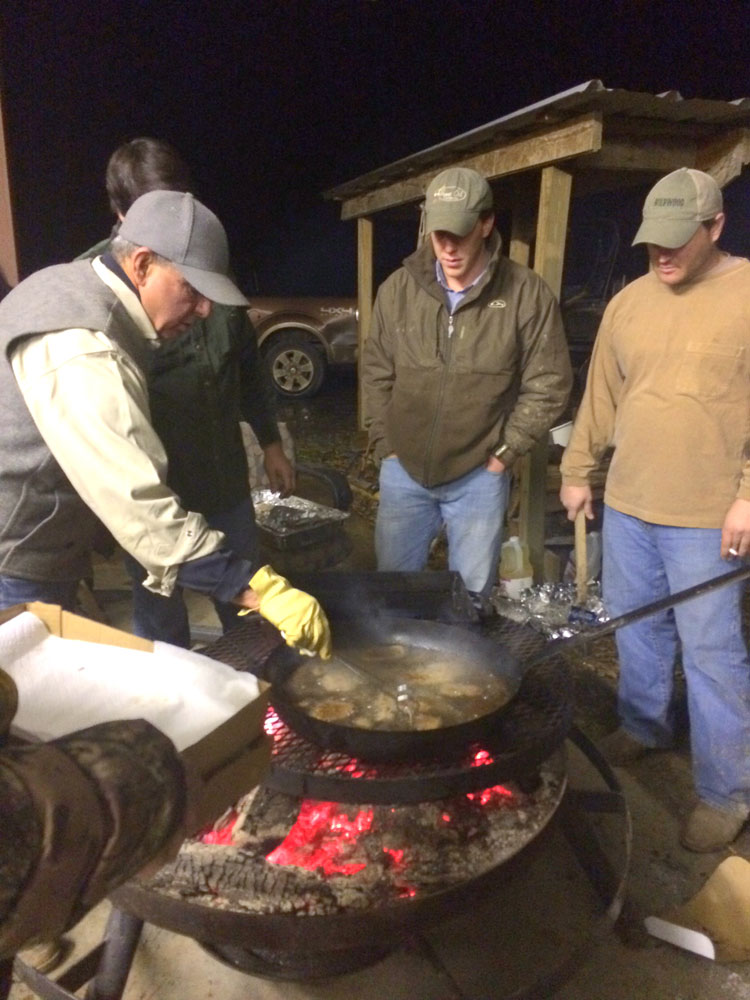 But for Paul, as it is with so many hunters, it's not just the hunt that's the quintessential experience but rather the good times spent with family and friends. "For as long as I can remember, my family has thrown a big welcome party for duck hunters on the opening day of the season. I remember as a child helping my mother and aunts get the great meals together," Paul said. "Now, we carry on that tradition by putting on a 'full spread.' In our family, it means a lot of good food – homemade, home-grown and hunted. Duck hunting is a social sport and one of my favorites. Good meals are a given when so many people are involved and contribute."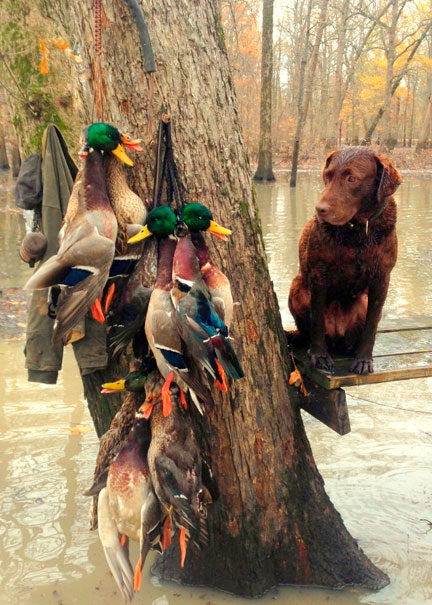 "Duck hunters are avid outdoorsmen, conservationists and hunters who embrace a brand of camaraderie steeped in history and tradition, inspiring intense devotion to the land and animals, as well as the desire to share it all with family, close friends and future generations," said Susan Schadt, founder and president of Wild Abundance Publishing and author of A Million Wings: A Spirited Story of the Sporting Life along the Mississippi Flyway. Duck hunting flourishes because of their conservation and development efforts and through membership in organizations such as Ducks Unlimited.
Duck hunting isn't only a favorite sport. It's an economic boon, too.  It brings thousands of hunters to Arkansas which translates into millions of dollars in revenue. For the farmers who flood their fields and timber, the season can significantly extend their income-producing months. As part of the Mississippi Flyway, the Arkansas Delta offers exceptional waterfowl hunting, drawing hunters from across the United States. More than 100,000 waterfowl hunters in Arkansas buy licenses, duck stamps and gear at sporting goods stores. They eat at local restaurants and support thousands of jobs related to the industry. They stay at area motels, or if they're fortunate, at one of the many private or commercial clubs and lodges scattered throughout premier duck hunting territory.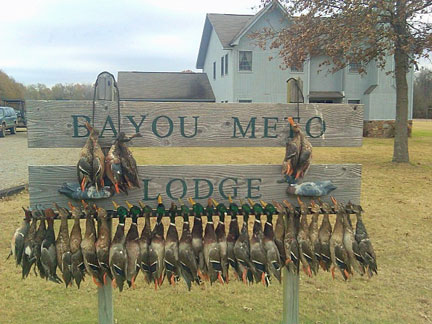 The discovery of Paul Michael's Delta Duck Wraps was an unexpected gift from my trip last December. One I willingly pass on to you, especially if you have diners who balk at eating duck. I think the keys to this version must be the soaking in the buttermilk and the placement of the jalapeno slices outside of the breasts instead of being rolled up in the pieces as I've done previously. I like to serve these skewers with my Arkansas Rice and Edamame Pilaf which features two of my favorite Arkansas crops.
Delta Duck Wraps: Grilled Duck and Jalapeno Skewers ala Paul Michael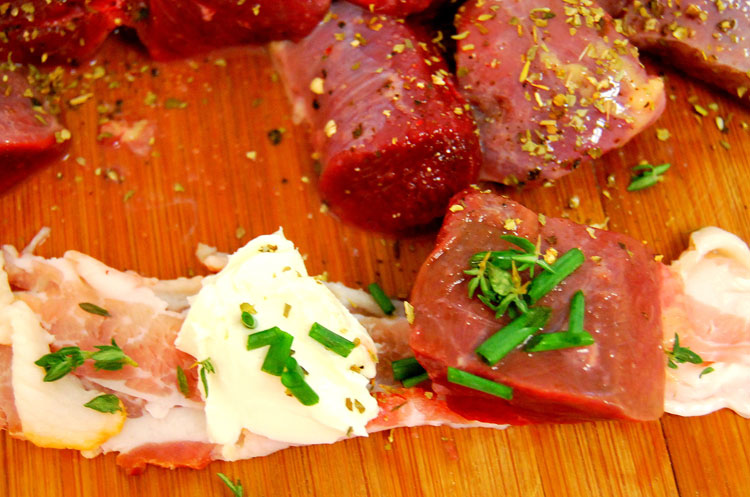 INGREDIENTS:
Marinade:
4 duck breast halves
buttermilk to cover
1 tablespoon smoked paprika
2 teaspoons granulated garlic
1 tablespoon freshly cracked black pepper
1 tablespoon Tabasco, optional (or to taste)
(You can double the breasts and adjust the seasonings by adding an additional teaspoon each.)
Mix the buttermilk and seasonings until combined. Pour over the duck breast halves and seal in a covered plastic or glass container for 3–4 days. You can turn them about half way through the marinating time, but it isn't necessary.
1/2 slice room temperature hickory smoked or apple wood smoked bacon per duck cube. (If bacon is center-cut or short, don't cut in half.)
3-4  fresh jalapenos, sliced crosswise
4 ounces cream cheese, softened
4 sprigs fresh thyme stems, leaves removed and set aside; discard stems
¼ cup chopped chives
1 tablespoon dried Italian seasoning
1/2 tablespoon ground chipotle pepper, optional
1/2 tablespoon cracked black pepper
Eight 6-inch wooden skewers
Directions
Grilling:
Place the skewers into water to soak for 30 minutes then remove from water. Drain, but don't rinse the breasts, allowing them to drain thoroughly on paper towels. Slice into large cubes, about four cubes per breast depending upon the size.
Slice the jalapenos into ¼-inch slices that can still be threaded onto the skewers. Spread each bacon slice with a small portion of softened cream cheese (about a scant teaspoon). Sprinkle a portion of the thyme leaves, chopped chives, Italian seasoning, ground chipotle and the black pepper along the bacon slice.
Wrap each duck cube with the cream cheese-bacon slice and slide onto a skewer. Place a piece of jalapeno between each cube. Don't crowd the cubes on the skewer. I can usually get about two cubes to a 6-inch skewer. Set aside until ready to grill.
These may be refrigerated until shortly before grilling, but bring them to room temperature before grilling.
Grill over medium-high heat as you might for chicken breasts, grilling only until medium-rare. Duck will be dry and tough if overcooked. Don't cook ahead. Instead, prepare the skewers and refrigerate until shortly before serving. Allow the skewers to come to room temperature before grilling.
Makes four servings.
Serve over Arkansas Rice and Edamame Pilaf.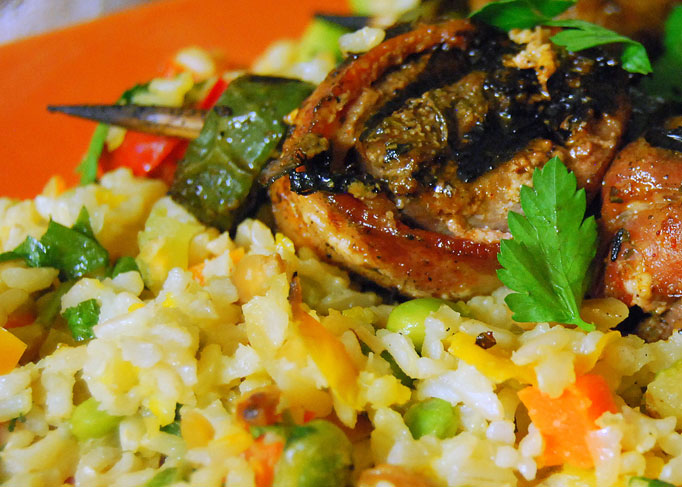 Arkansas Rice and Edamame Pilaf
Ingredients
2 cups long-grain white rice*
1/3 cup unsalted butter
4 cups chicken or vegetable broth, heated
pinch saffron, optional
(or 3 cups broth and 1 cup dry white wine)
2 tablespoons olive oil
1/2  cup finely chopped carrots
1/2 cup finely chopped red bell pepper
1/2 cup finely chopped celery
1/4 cup finely chopped onion
1/2 teaspoon minced garlic
1 cup shelled edamame
1/2 cup minced parsley
1/2 cup chopped green onion
1 cup slivered almonds, toasted
Directions
Preheat the oven to 350 degrees. Butter a 6–8 cup covered casserole dish and set aside. Sauté rice in the butter until slightly toasted. Add in the hot broth and stir. Stir in the saffron, if using. Pour the rice and broth mixture into the buttered casserole dish. Cover and cook for 20-25 minutes.
Sauté the carrots, bell pepper, celery and onion in the olive oil until slightly wilted. Stir in the garlic and edamame and heat through. Remove from the heat and stir in the parsley, green onion and slivered almonds. After the rice has precooked, add in the vegetable and almond mixture, stirring lightly. Return to the oven and cook an additional 15–20 minutes. Makes eight servings. Leftover rice pilaf is especially good in a stir-fry.
Debbie Arnold is a co-administrator of Arkansas Women Bloggers and blogs at Dining With Debbie. A native Arkansan and a retired teacher, she spends much of her time traveling between the central area where she lives and the northwest area of the state where she plays with her perfect grandchildren. On occasion, she hangs out with her duck-hunter husband in the duck blinds.   Facebook:  Debbie Horton Arnold Facebook: Dining With Debbie Twitter:  @diningwithdeb Pinterest: Dining With Deb Email: DiningWithDebbieBlog@gmail.com