Petit Jean Meats is known for their ham. They are flavorful, tender and easy to cook. I added a simple glaze to my ham, and it was phenomenal. The glaze was sweet and slightly tangy but didn't over power the ham's flavor. The leftovers made awesome sandwiches, too. In fact, I made this ham for a small group of friends and still had plenty leftover. Today is the last day to enter our giveaway! Don't miss out on your chance to enter to win Petit Jean Meats, P. Allen Smith's Veggies & Herbs and a Le Creuset Casserole Dish!
Did you know a mere 16 percent of Arkansas' farms account for a whopping 92 percent of production?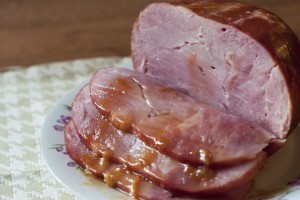 Ingredients
1 EZ carve Hickory Smoked Petit Jean Ham
1/3 cup apricot jam
2/3 cup brown sugar
1 teaspoon dry mustard powder
Instructions
Preheat oven to 335 degrees. Place the ham cut side down onto a sheet of aluminum foil.
Mix together the brown sugar, apricot jam and mustard powder in a small bowl. Brush onto the ham using a pastry or barbeque brush. Reserve any leftover glaze. Enclose the foil around the ham and place on a rimmed baking sheet.
Bake for 10 to 15 minutes per pound to heat through. Open foil and add any remaining glaze 15 minutes before ham is cooked. Leave ham uncovered for the last 15 minutes of baking.