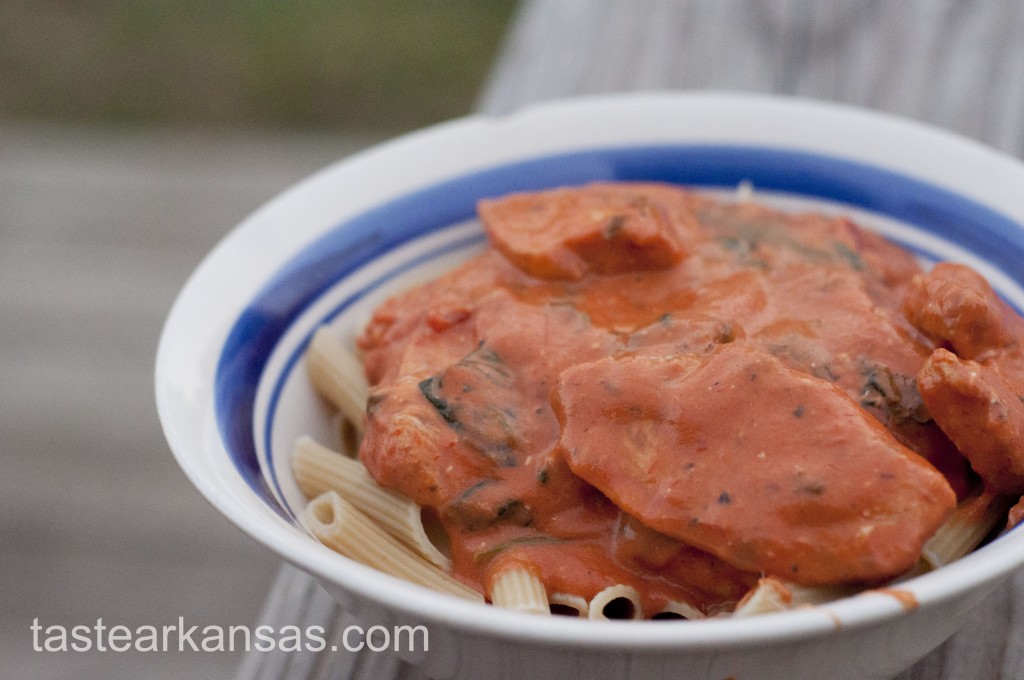 Earlier this week, I was craving pasta. However, I didn't want to spend a lot of time in the kitchen. So, out of necessity, I made up this recipe for 30-Minute Chicken Pasta. There are only a handful of ingredients, and it all comes together in 30 minutes or less. My favorite part is the spinach, because it adds a lot of health benefits, and its flavor is really mild in this sauce. I used a sweet marinara as my base, and it was awesome! Cooking the chicken in balsamic vinegar also adds a hint of sweet, so everything melded together nicely. Let me know if you like it.
Did you know that more than 2,500 farms raise poultry in Arkansas?
Ingredients
3 boneless, skinless chicken breasts, sliced into even chunks
1 jar of tomato-based pasta sauce of your choice
4 ounces cream cheese
¼ cup shredded Parmesan cheese
6 ounces fresh spinach
½ box of whole wheat penne
1 tablespoon balsamic vinegar
salt, pepper and olive oil to taste
Directions
Heat a large skillet over medium heat. Coat chicken breast chunks with olive oil, salt and pepper. Place in pan and drizzle with balsamic vinegar. Heat until cooked through, turning occasionally. Meanwhile, cook pasta according to package instructions.
Remove chicken from pan and set aside leaving any juices in the pan.  Add pasta sauce and spinach, cooking until the spinach begins to wilt. Add cream cheese and Parmesan, stirring to combine. Add chicken back into pan and cook until sauce is heated through.
Drain pasta and top with chicken and sauce mixture. Serve immediately.